About Before She Knew Him
• Hardcover: 320 pages
• Publisher: William Morrow (March 5, 2019)
Catching a killer is dangerous—especially if he lives next door
From the hugely talented author of The Kind Worth Killing comes an exquisitely chilling tale of a young suburban wife with a history of psychological instability whose fears about her new neighbor could lead them both to murder . . .
Hen and her husband Lloyd have settled into a quiet life in a new house outside of Boston, Massachusetts. Hen (short for Henrietta) is an illustrator and works out of a studio nearby, and has found the right meds to control her bipolar disorder. Finally, she's found some stability and peace.
But when they meet the neighbors next door, that calm begins to erode as she spots a familiar object displayed on the husband's office shelf. The sports trophy looks exactly like one that went missing from the home of a young man who was killed two years ago. Hen knows because she's long had a fascination with this unsolved murder—an obsession she doesn't talk about anymore, but can't fully shake either.
Could her neighbor, Matthew, be a killer? Or is this the beginning of another psychotic episode like the one she suffered back in college, when she became so consumed with proving a fellow student guilty that she ended up hurting a classmate?
The more Hen observes Matthew, the more she suspects he's planning something truly terrifying. Yet no one will believe her. Then one night, when she comes face to face with Matthew in a dark parking lot, she realizes that he knows she's been watching him, that she's really on to him. And that this is the beginning of a horrifying nightmare she may not live to escape. . .
Social Media
Please use the hashtag #beforesheknewhim and tag @tlcbooktours, @williammorrowbooks, and @petermswanson.

Purchase Links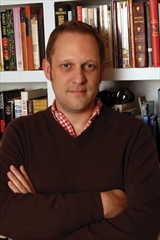 About Peter Swanson
Peter Swanson is the author of three novels: The Girl With a Clock For a Heart, an LA Times Book Award finalist; The Kind Worth Killing, winner of the New England Society Book Award, and finalist for the CWA Ian Fleming Steel Dagger; and his most recent, Her Every Fear. His books have been translated into 30 languages, and his stories, poetry, and features have appeared in Asimov's Science Fiction, The Atlantic Monthly, Measure, The Guardian, The Strand Magazine, and Yankee Magazine. A graduate of Trinity College, the University of Massachusetts at Amherst, and Emerson College, he lives in Somerville, Massachusetts with his wife.
Find out more about Peter on his website and follow him on Twitter and Instagram.
Instagram Features
Tuesday, March 5th: Instagram: @shereadswithcats
Tuesday, March 5th: Instagram: @katieladyreads
Wednesday, March 6th: Instagram: @dropandgivemenerdy
Thursday, March 7th: Instagram: @absorbedinpages
Friday, March 8th: Instagram: @reading.betweenthewines
Saturday, March 9th: Instagram: @ladyofthelibrary
Sunday, March 10th: Instagram: @crystals_library
Monday, March 11th: Instagram: @jessicamap
Monday, March 11th: Instagram: @tbretc
Review Stops
Tuesday, March 5th: Stranded in Chaos
Wednesday, March 6th: Comfy Reading
Thursday, March 7th: Tales of a Book Addict
Friday, March 8th: Instagram: @givemeallthebooks
Monday, March 11th: Instagram: @brookesbooksandbrews
Tuesday, March 12th: No More Grumpy Bookseller
Wednesday, March 13th: Jessicamap Reviews
Thursday, March 14th: Instagram: @libraryinprogress
Friday, March 15th: Literary Quicksand
Monday, March 18th: Thoughts From a Highly Caffeinated Mind
Tuesday, March 19th: Ms. Nose in a Book
Wednesday, March 20th: Into the Hall of Books
Thursday, March 21st: Dreams, Etc.