Join us for an Instagram tour for
Hardcover: 32 Pages
Publisher: Page Street Kids (February 19, 2019)
With suspense and humor, this wary and unadventurous book uses the five senses to try and figure out what kind of story might be on its pages.
Does it hear spooky wails from a ghost story?
Can it see a mysterious something peeking around a corner?
Is that the dizzy feeling of zero gravity it senses?
Might that be the stinky smell of animals in nature it detects?
Could it be tasting the saltiness of a story on the high seas?
The reader and book navigate the book's contents together, becoming friends as the book becomes braver with every page turn. This multilayered book incorporates the five senses, multiple literary genres, and various book parts, with the relationship between book and reader bringing everything together.

Purchase Links
Hardcover: 32 Pages
Publisher: Page Street Kids (May 21, 2019)
Nova has a big appetite for stars, so when she decides to gobble up Earth's Sun, panic erupts around the globe. Earth needs its Sun to survive! How will it get it back from Nova? One bright little girl just might have a solution. Sparkling with humor and interstellar adventure, this story showcases creative problem-solving and a subtle reminder to not eat someone else's food-or stars-without asking first.
Expressive illustrations add excitement and silliness to Earth's predicament, while a mix of the fantastical and factual provides a fun way to learn just how important our Sun is. A laugh-out-loud space adventure full of gas…and heart.

Purchase Links
About Lindsay Leslie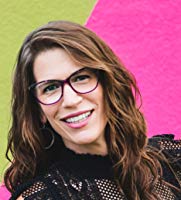 A diary keeper, a journal writer, a journalism major, a public relations executive–Lindsay Leslie has always operated in a world of written words. When she became a mom and began to tell her kids bedtime stories, Lindsay connected the dots to children's literature. Her debut picture book, THIS BOOK IS SPINELESS, releases Feb. 19, 2019, with Page Street Kids. It is followed by two subsequent picture books: NOVA THE STAR EATER (Spring 2019) and WANTED: DUSK RAIDERS (Spring 2020), also with Page Street Kids. Lindsay graduated from The University of Texas at Austin and lives with her husband, two young boys, and two fur-beasts in Austin.
Connect with Lindsay
Instagram tour:
Monday, May 20th: @dropandgivemenerdy
Tuesday, May 21st: @stephaniehowell
Wednesday, May 22nd: @jackiereadsbooks
Thursday, May 23rd: @kingdom.mama
Thursday, May 23rd: @sarastrand9438
Friday, May 24th: @hollyslittlebookreviews
Saturday, May 25th: @lifewithrubyandconner
Sunday, May 26th: @blossomandroot
TOUR REPLAY: @TLCBookTours