___________________________
Book clubs will get to choose between one of these two books.

Damned / Blackwell by Alexandrea Weis with Lucas Astor
About Damned
Over a hundred years after the death of Magnus Blackwell, Altmover Manor sits abandoned.
Lexie Arden and her fiancé, Will Bennett, are determined to rescue the neglected Mount Desert Island landmark. They want to make Altmover Manor their home. But Magnus has other plans.
A spirit bound to his former residence, Magnus finds himself inexplicably drawn to the young woman. She has a supernatural gift; a gift Magnus wants to exploit.
As Lexie and Will settle in, secrets from Magnus's past begin to surface. Compelled to learn all she can about the former owner, Lexie becomes immersed in a world of voodoo, curses, and the whereabouts of a mysterious dragon cane.
Magnus's crimes won't be so easily forgotten, and what Lexie unearths is going to change the future … for everyone.

Purchase Links
About Blackwell
Prequel to the Magnus Blackwell Series

". . . an intriguing, dark tale complete with vividly drawn characters, and a uniquely compelling character in Magnus." ~ Melanie Bates, RT Book Reviews
Hell has a new master
In the late 1800s, handsome, wealthy New Englander, Magnus Blackwell, is the envy of all.
When Magnus meets Jacob O'Connor–a Harvard student from the working class–an unlikely friendship is forged. But their close bond is soon challenged by a captivating woman; a woman Magnus wants, but Jacob gets.
Devastated, Magnus seeks solace in a trip to New Orleans. After a chance meeting with Oscar Wilde, he becomes immersed in a world of depravity and brutality, inevitably becoming the inspiration for Dorian Gray. Armed with the forbidden magic of voodoo, he sets his sights on winning back the woman Jacob stole from him.
Amid the trappings of Victorian society, two men, bent on revenge, will lay the foundation for a curse that will forever alter their destinies.
WARNING: CONTAINS SOME MATURE SCENES

Purchase Links
___________________________
A beautifully crafted story breathes life into the cameo character from the classic novel A Tale of Two Cities.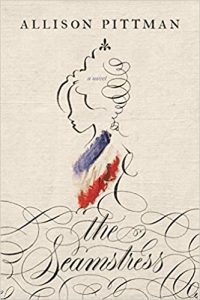 The Seamstress by Allison Pittman
France, 1788
It is the best of times . . .
On a tranquil farm nestled in the French countryside, two orphaned cousins?Renée and Laurette?have been raised under the caring guardianship of young Émile Gagnon, the last of a once-prosperous family. No longer starving girls, Laurette and Renée now spend days tending Gagnon's sheep, and nights in their cozy loft, whispering secrets and dreams in this time of waning innocence and peace.
It is the worst of times . . .
Paris groans with a restlessness that can no longer be contained within its city streets. Hunger and hatred fuel her people. Violence seeps into the ornate halls of Versailles. Even Gagnon's table in the quiet village of Mouton Blanc bears witness to the rumbles of rebellion, where Marcel Moreau embodies its voice and heart.
It is the story that has never been told.
In one night, the best and worst of fate collide. A chance encounter with a fashionable woman will bring Renée's sewing skills to light and secure a place in the court of Queen Marie Antoinette. An act of reckless passion will throw Laurette into the arms of the increasingly militant Marcel. And Gagnon, steadfast in his faith in God and country, can only watch as those he loves march straight into the heart of the revolution.

Purchase Links
___________________________
From the RITA Award–winning author of Five Days in Skye comes a sweet, romantic treat that will leave you hungry for more.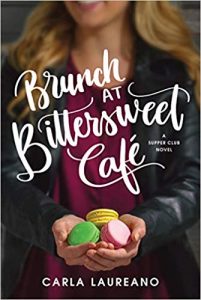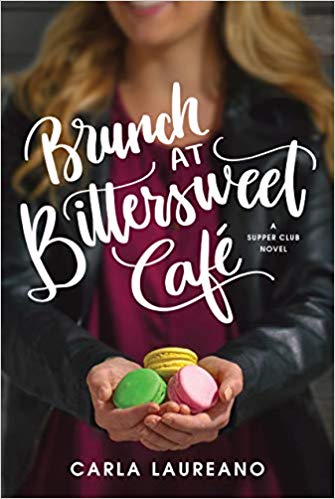 Brunch at Bittersweet Cafe by Carla Laureano
Baker and pastry chef Melody Johansson has always believed in finding the positive in every situation, but seven years after she moved to Denver, she can't deny that she's stuck in a rut. One relationship after another has ended in disaster, and her classical French training is being wasted on her night job in a mediocre chain bakery. Then the charming and handsome private pilot Justin Keller lands on the doorstep of her workplace in a snowstorm, and Melody feels like it's a sign that her luck is finally turning around.
Justin is intrigued by the lively bohemian baker, but the last thing he's looking for is a relationship. His own romantic failures have proven that the demands of his job are incompatible with meaningful connections, and he's already pledged his life savings to a new business venture across the country?an island air charter in Florida with his sister and brother-in-law.
Against their better judgment, Melody and Justin find themselves drawn together by their unconventional career choices and shared love of adventure. But when an unexpected windfall provides Melody with the chance to open her dream bakery-café in Denver with her best friend, chef Rachel Bishop, she's faced with an impossible choice: stay and put down roots with the people and place she's come to call home . . . or give it all up for the man she loves.

Purchase Links
___________________________

Please fill out our super short registration form (click the "Enter Now" button above) by February 28th for a chance to win a set of up to ten copies of one of these great books for your book club! We will randomly choose a winner at the end of the month. This giveaway is open to clubs in the US only (our apologies to friends in other countries). 
Best of luck!
We 
LOVE

 Book Clubs!