Hardcover: 336 Pages
Publisher: Inkyard Press; Original edition (April 30, 2019)
Has heartbreak broken her for good?
Dumped by her boyfriend the summer after senior year, teen love and relationship columnist Lu Charles has hit a wall with her writing. The words just won't come to her like they used to and if she doesn't find a topic for her column, she'll lose her gig at hip online magazine Misnomer, and the college scholarship that goes along with it.
Her best friend, Pete, thinks she should write through her own pain, but when Lu overhears another couple planning a precollege breakup just like hers, she becomes convinced that they're the answer to cracking her writer's block. And when she meets them—super-practical Iris and cute, sweet Cal—and discovers they're postponing their breakup until the end of the summer, she has to know more.
Have Cal and Iris prolonged their own misery by staying together, knowing the end is in sight? Or does the secret to figuring out all this love business—and getting over it—lie with them? One thing is certain—if Lu can't make a breakthrough before summer is over, she can kiss her future goodbye.
From the acclaimed author of Let's Get Lost and North of Happy comes a touching exploration of love, relationships and the pain of breaking up.

Purchase Links
About Adi Alsaid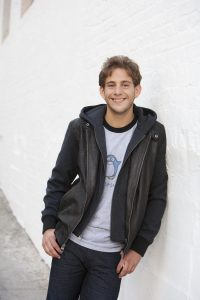 Adi Alsaid was born and raised in Mexico City. He attended college at the University of Nevada, Las Vegas. He's now back in Mexico City, where he writes, coaches basketball, and makes every dish he eats as spicy as possible. In addition to Mexico, he's lived in Tel Aviv, Las Vegas and Monterey, California. His books include Let's Get Lost, Never Always Sometimes, and North of Happy.
Connect with Adi
Adi Alsaid's TLC Book Tours TOUR STOPS:
Monday, April 29th: Book by Book
Tuesday, April 30th: Teachers Who Read
Wednesday, May 1st: @lovelyreadergirl
Thursday, May 2nd: What is That Book About – excerpt
Monday, May 6th: Write Read Life
Wednesday, May 8th: Hopelessly Devoted Bibliophile
Friday, May 10th: Not in Jersey
Monday, May 13th: Run Wright
Tuesday, May 14th: @fromlibrarywithlove
Wednesday, May 15th: A Bookish Way of Life
Monday, May 20th: From the TBR Pile
Wednesday, May 22nd: Novel Gossip and @novelgossip
Friday, May 24th: Book Fidelity
Thursday, May 30th: @bookstorefinds