About No Exit
• Hardcover: 352 pages
• Publisher: William Morrow (January 15, 2019)
"What a box of tricks! This full-throttle thriller, dark and driving, rivals Agatha Christie for sheer ingenuity and James Patterson for flat-out speed. Swift, sharp, and relentless."  — A. J. Finn, #1 New York Times bestselling author of The Woman in the Window
A brilliant, edgy thriller about four strangers, a blizzard, a kidnapped child, and a determined young woman desperate to unmask and outwit a vicious psychopath.
A kidnapped little girl locked in a stranger's van. No help for miles. What would you do?
On her way to Utah to see her dying mother, college student Darby Thorne gets caught in a fierce blizzard in the mountains of Colorado. With the roads impassable, she's forced to wait out the storm at a remote highway rest stop. Inside are some vending machines, a coffee maker, and four complete strangers.
Desperate to find a signal to call home, Darby goes back out into the storm . . . and makes a horrifying discovery. In the back of the van parked next to her car, a little girl is locked in an animal crate.
Who is the child? Why has she been taken? And how can Darby save her?
There is no cell phone reception, no telephone, and no way out. One of her fellow travelers is a kidnapper. But which one?
Trapped in an increasingly dangerous situation, with a child's life and her own on the line, Darby must find a way to break the girl out of the van and escape.
But who can she trust?
With exquisitely controlled pacing, Taylor Adams diabolically ratchets up the tension with every page. Full of terrifying twists and hairpin turns, No Exit will have you on the edge of your seat and leave you breathless.
Social Media
Please use the hashtag #noexit and tag @williammorrowbooks and @tlcbooktours.

Purchase Links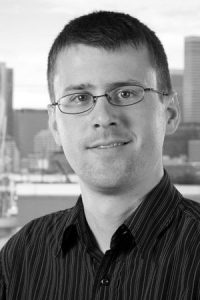 About Taylor Adams
Taylor Adams graduated from Eastern Washington University with the prestigious Edmund G. Yarwood Award. His directorial work has screened at the Seattle True Independent Film Festival and his writing has been featured on KAYU-TV's Fox Life blog. Taylor lives in Washington state and has written two previous novels, Eyeshot and Our Last Night, published as e-books by a U.K. publisher.
Find out more about Taylor at his website, and connect with him on Twitter and Facebook.
Instagram Features
Tuesday, January 15th: Instagram: @shereadswithcats
Tuesday, January 15th: Instagram: @givemeallthebooks
Wednesday, January 16th: Instagram: @brookesbooksandbrews
Wednesday, January 16th: Instagram: @books.coffee.cats
Friday, January 18th: Instagram: @libraryinprogress
Saturday, January 19th: Instagram: @jessicamap
Monday, January 21st: Instagram: @dropandgivemenerdy
Monday, January 21st: Instagram: @tbretc
Tour Replay: @TLCBookTours