Hardcover: 352 Pages
Publisher: Blink (March 5, 2019)
From Stephanie Morrill, author of The Lost Girl of Astor Street, comes Within These Lines, the love story of a girl and boy torn apart by racism during World War II.
Evalina Cassano's life in an Italian-American family living in San Francisco in 1941 is quiet and ordinary until she falls in love with Taichi Hamasaki, the son of Japanese immigrants. Despite the scandal it would cause and that inter-racial marriage is illegal in California, Evalina and Taichi vow they will find a way to be together. But anti-Japanese feelings erupt across the country after the attack on Pearl Harbor, and Taichi and his family are forced to give up their farm and move to an internment camp.
Degrading treatment makes life at Manzanar Relocation Center difficult. Taichi's only connection to the outside world is treasured letters from Evalina. Feeling that the only action she can take to help Taichi is to speak out against injustice, Evalina becomes increasingly vocal at school and at home. Meanwhile, inside Manzanar, fighting between different Japanese-American factions arises. Taichi begins to doubt he will ever leave the camp alive.
With tensions running high and their freedom on the line, Evalina and Taichi must hold true to their ideals and believe in their love to make a way back to each other against unbelievable odds.

Purchase Links
About Stephanie Morrill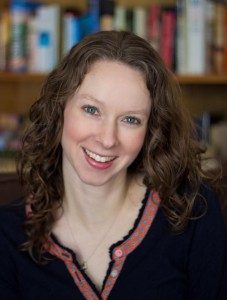 Stephanie Morrill is the creator of GoTeenWriters.com and the author of several young adult novels, including the historical mystery, The Lost Girl of Astor Street. Despite loving cloche hats and drop-waist dresses, Stephanie would have been a terrible flapper because she can't do the Charleston and looks awful with bobbed hair. She and her near-constant ponytail live in Kansas City with her husband and three kids.
Connect with Stephanie
.
Stephanie Morrill's TLC Book Tour TOUR STOPS:
Monday, March 4th: Where the Reader Grows and @wherethereadergrows
Tuesday, March 5th: Bookish Bliss and Beauty
Wednesday, March 6th: Bookworm for Kids
Thursday, March 7th: @readingbetweenthe_wines
Friday, March 8th: @diamondxgirl
Monday, March 11th: Stephanie's Book Reviews … 100 Pages a Day
Tuesday, March 12th: Christian Chick's Thoughts
Wednesday, March 13th: @librarycutie
Thursday, March 14th: Helen's Book Reviews
Monday, March 18th: Books and Cats and Coffee and @bookncatsncoffee
Tuesday, March 19th: Broken Teepee
Friday, March 22nd: View from the Birdhouse
Monday, March 25th: Patricia's Wisdom
Tuesday, March 26th: @jennblogsbooks
Wednesday, March 27th: Kahakai Kitchen
Monday, April 1st: Book Fidelity