Join us for an Instagram tour for
Paperback: 400 Pages
Publisher: Kensington (March 26, 2019)
A tragic missing person case spirals into an unrelenting murder mystery. Intrigue, deception, and serial homicide erupt in the latest real-life thriller by New York Times bestselling investigative journalist M. William Phelps.
 
In October 2014, after Chris Regan failed to arrive at his new job, his ex-girlfriend filed a missing-person report. Something was off. It was not like Chris, a devoted father, avid hiker, and all-around great guy, not to show up. When local Michigan police chief Laura Frizzo learned Chris was having an affair with Kelly Cochran, a married co-worker, suspicion fell on her husband, Jason. After a search warrant on their house revealed several suspicious items, the Cochrans abruptly moved to Indiana. As questions swirled around the case, the whereabouts of Chris Regan remained unknown.
Sixteen months later Jason Cochran died from a drug overdose. Friends and family rallied around the grieving and distraught Kelly. But when the coroner ruled Jason's death a homicide, no one reacted more bizarrely than his widow. For months detectives tried to put Kelly's past into focus, but the truth was buried under a patchwork of lies, contradictions, and brutally horrific revelations. As Kelly Cochran, a Purdue graduate and psychology major, played "catch me if you can," a mesmerizing story emerged that rivals today's bestselling fiction in its drama and fascination. In the hands of veteran investigative journalist M. William Phelps, her staggering saga of murder, revenge, and payback surpasses anything that could go wrong in a season of Fargo.

Purchase Links
About M. Williams Phelps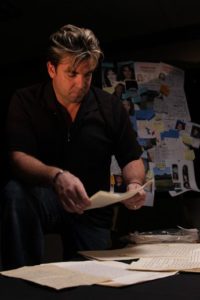 New York Times bestselling investigative journalist and serial crime expert M. William Phelps is the author of more than thirty nonfiction books and has made over 200 television appearances. He created, produced and starred in the series Dark Minds and is one of the stars of Deadly Women and Oxygen's Snapped, Killer Couples andKillerPost. Radio America calls him "the nation's leading authority on the mind of the female murderer." Touched by tragedy himself through the unsolved murder of his sister-in-law, Phelps is able to enter the hearts and minds of his subjects like no one else. He lives in a Connecticut farming community.
Connect with M. William Phelps
Instagram tour:
Monday, April 8th: @talesfortay
Tuesday, April 9th: @downtogetthefictionon
Thursday, April 11th: @libraryinprogress
Friday, April 12th: @jessicamap
Saturday, April 13th: @readingbetweenthe_wines
Sunday, April 14th: @thesaggingbookshelf
Sunday, April 14th: @_ebl_inc_