About Don't Wake Up
• Hardcover: 368 pages
• Publisher: Harper (February 5, 2019)
A harrowing psychological thriller debut about a woman who awakens after an assault with no physical proof of the attack and who must try to convince everyone of what really happened.
When Dr. Alex Taylor opens her eyes, she is hooked up to an IV, is bound to an operating table, and her legs are raised in stirrups. Disoriented and alarmed, she assumes she's been anesthetized and brought to surgery after being in an accident. But the man standing over her, with his face hidden behind a surgical mask and wielding instruments, is no doctor she recognizes at the hospital where she works as a successful and respected doctor. He's a stranger—and he's calmly and methodically telling her how he's about to attack her. Before Alex can even scream for help, she succumbs to another dose of anesthesia, rendering her unable to defend herself….
When she comes to on a gurney, she finds herself surrounded by her colleagues and immediately reports the attack and rape. The police are skeptical of her bizarre story. And after a physical exam reveals no proof of any attack, even her boyfriend has doubts. Despite Alex's adamant claims, no one believes her, leaving her to wonder if she has, in fact, lost her mind.
Until she meets the next victim…
An edge-of-your-seat psychological thriller, Don't Wake Up is also a provocative, timely exploration of victimhood, abuse, and the discrediting of women in our culture.
Social Media
Please use the hashtag #dontwakeup and tag @tlcbooktours.

Purchase Links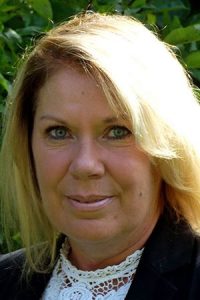 About Liz Lawler
Born in Chatham, England, and partly raised in Dublin, Ireland, Liz Lawler is one of fourteen children and grew up sharing socks, pants, stuffed bras, and a table space to eat at. Liz spent more than twenty years working as a nurse, and has since worked as a flight attendant and as the general manager of a five-star hotel. She now lives in Bath with her husband. Don't Wake Up is her first novel.
Follow Liz on Twitter, @AuthorLizLawler.
Instagram Features
Monday, February 4th: Instagram: @brookesbooksandbrews
Tuesday, February 5th: Instagram: @wherethereadergrows
Wednesday, February 6th: Instagram: @crystals_library
Thursday, February 7th: Instagram: @reading.betweenthewines
Friday, February 8th: Instagram: @libraryinprogress
Sunday, February 10th: Instagram: @readingbetweenthe__wines
Monday, February 11th: Instagram: @jessicamap
Monday, February 11th: Instagram: @willbakeforbooks
Tuesday, February 12th: Instagram: @the.blonde.bookworm
TOUR REPLAY: @TLCBookTours