Join us for and Instagram tour for
Hardcover: 384 pages
Publisher: Page Street Kids (April 9, 2019)
"Stunning, evocative, and ocean deep, The Sound of Drowning is truly an emotional riptide of a read! I'm still searching for my next breath . . . and my next tissue." – Darcy Woods, award-winning author of Summer of Supernovas
Meredith Hall has a secret. Every night she takes the ferry to meet Ben, her best friend and first love. Though their relationship must remain a secret, they've been given a second chance, and Mer's determined to make it work. She lost Ben once before and discovered the awful reality: she doesn't know how to be happy without him…
Until Wyatt washes ashore-a brash new guy with a Texas twang and a personality bigger than his home state. He makes her feel reckless, excited, and alive in ways that cut through her perpetual gloom. The deeper they delve into each other's pasts, the more Wyatt's charms become impossible to ignore.
But a storm is brewing in the Outer Banks. When it hits, Mer finds her heart tearing in half and her carefully constructed reality slipping back into the surf. As she discovers that even the most deeply buried secrets have a way of surfacing, she'll have to learn that nothing is forever-especially second chances.

Purchase Links
About Katherine Fleet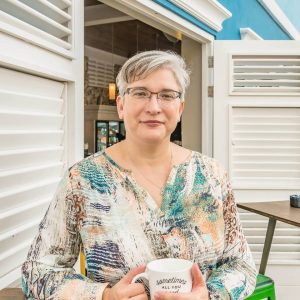 Originally from Newfoundland, Canada, Katherine Fleet moved with her family to the Caribbean island of Curaçao in 2007. When she's not writing, she spends her time baking, chauffeuring her three amazing, talented kids around, and having sun-filled adventures with her wonderful friends.
Connect with Katherine
Instagram tour:
Monday, April 8th: @createexploreread
Tuesday, April 9th: @theliteraryllama
Wednesday, April 10th: @booksbeforebedtime
Thursday, April 11th: @girlsinbooks
Friday, April 12th: @lovelyreadergirl
Sunday, April 14th: @_ebl_inc_
Monday, April 15th: @bookishconnoisseur
Thursday, April 18th: @everlasting.charm
Saturday, April 20th: @charli_the_book_princess
TOUR REPLAY: @TLCBookTours