___________________________
From well-loved women's fiction writer Kristyn Kusek Lewis comes a breakout novel about a woman moving to a small community and uncovering the many secrets that hide behind closed doors—perfect for fans of Liane Moriarty and Elin Hilderbrand.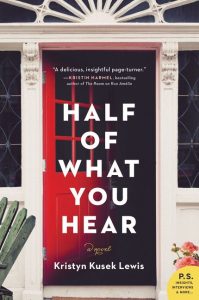 Half of What You Hear by Kristyn Kusek Lewis
Greyhill, Virginia—refuge of old money, old mansions, and old-fashioned ideas about who belongs and who doesn't—just got a few new residents. When Bess Warner arrives in town with her husband Cole and their kids, she thinks she knows what to expect. Sure, moving to Cole's small hometown means she'll have to live across the street from her mother-in-law, and yes, there's going to be a lot to learn as they take over Cole's family's inn-keeping business, but Bess believes it will be the perfect escape from Washington. She needs it to be. After losing her White House job under a cloud of scandal, she hardly knows who she is anymore.
But Bess quickly discovers that fitting in is easier said than done. Instead of the simpler life she'd banked on, she finds herself preoccupied by barbed questions from gossipy locals and her own worries over how her twins are acclimating at the town's elite private school. When the opportunity to write an article for the Washington Post's lifestyle supplement falls into Bess's lap, she thinks it might finally be her opportunity to find her footing here…even if the subject of the piece is Greyhill's most notorious resident.
Susannah "Cricket" Lane, fruit of the town's deepest-rooted family tree, is a special sort of outsider, having just returned to Greyhill from New York after a decades-long hiatus. The long absence has always been the subject of suspicion, not that the eccentric Susannah cares what anyone thinks; as a matter of fact, she seems bent on antagonizing as many people as possible. But is Susannah being sincere with Bess—or is she using their strangely intense interview sessions for her to further an agenda that includes peeling back the layers of Greyhill's darkest secrets?
As Bess discovers unsettling truths about Susannah and Greyhill at large, ones that bring her into the secrets of prior generations, she begins to learn how difficult it is to start over in a town that runs on talk, and that sometimes, the best way to find yourself is to uncover what everyone around you is hiding….

Purchase Links
___________________________
An unforgettable story set during the American Revolution!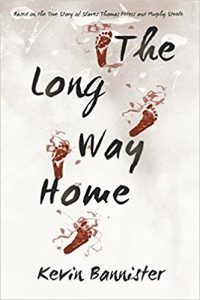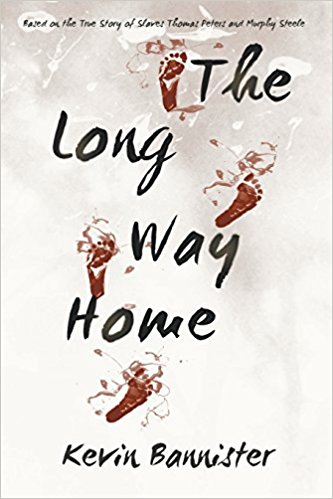 The Long Way Home by Kevin Bannister
Set in the turbulent times of the War of Independence, 'The Long Way Home' follows the lives of Thomas Peters and Murphy Steele who are friends, former slaves, fellows-in-arms and leaders of the Black Brigade. Their real-life story is an epic adventure tale as they battle bounty hunters, racism, poverty and epidemic in their adopted country after the war.
'The Long Way Home' has resonated with readers around the world as an unforgettable account of courage, hope and determination triumphing over despair and injustice. Thomas Peters, thoughtful and charismatic, and Murphy Steele, strong and impulsive, lead their followers on an inspirational search for a place where they can be free.

Purchase Links
___________________________
History takes on vivid life in the stunning first full-length novel in bestselling author Tamera Alexander's new 4-book Southern series… The Carnton Novels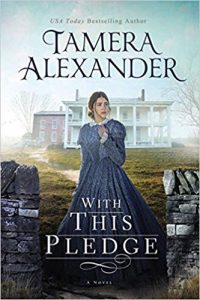 With This Pledge by Tamera Alexander
What can a woman–a mere governess–do against the scourge of slavery?
.
Elizabeth "Lizzie" Clouston's quietly held principles oppose those of the Southern Cause–but when forty thousand soldiers converge on the fields of Franklin, Tennessee, the war demands an answer. The Carnton home, where she is governess, is commandeered as a Confederate hospital; and Lizzie must summon fortitude to assist the military doctor with surgeries that determine life or death–even as she fears for the life of Towny, her fiancé and lifelong friend.
A young soldier's dying words convey an urgent message that Lizzie promises to deliver, yet she knows little more than the boy's first name. That same night, decorated Mississippi sharpshooter Captain Roland Ward Jones extracts a different promise from Lizzie: that she intervene should the surgeon decide to amputate. Even if it costs him his life.
Lizzie is nothing if not a woman of her word, earning the soldiers' respect as she tends the wounded convalescing within Carnton's walls. None is more admiring than Captain Jones, who doesn't realize she is already pledged to another. But Captain Jones holds secrets of his own, which prove costly for Lizzie. Because a betrothed woman shouldn't harbor feelings for a man other than her intended. Especially not when that man is a slave owner.
When Towny vanishes after a crushing battle in Nashville, Lizzie must confront the costs of war. And torn between love, principles, and promises made, she struggles to be true to her own heart while standing for what she knows is right–no matter the cost.
From the pages of history and the personal accounts of those who endured the Battle of Franklin, Tamera Alexander weaves the real-life love letters between Captain Roland Ward Jones and Miss Elizabeth Clouston into a story of unlikely romance first kindled amid the shadows of war.
"Tamera Alexander takes us to the Civil War battlefield with a vivid yet sensitive portrayal of war and its aftermath. With warmth and grace, she shows us hope and faith at work in the midst of suffering. The beautifully-drawn characters and rich history in With This Pledge work seamlessly to demonstrate that Christ's love and romantic love can triumph even in our darkest moments."–Lynn Austin, bestselling author of Legacy of Mercy

Purchase Links
___________________________
From USA TODAY bestselling author Colleen Coble comes the third book in her beloved Lavender Tides series.
Her mother lied about her identity and her husband wasn't who she thought he was—can Bailey even trust herself anymore?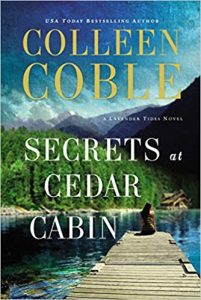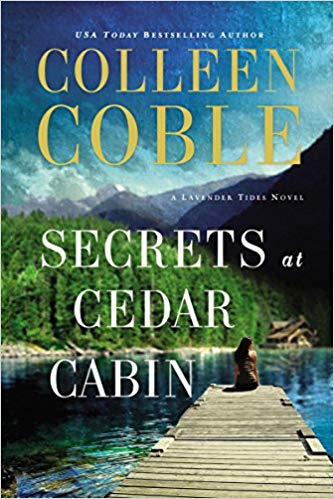 Secrets at Cedar Cabin by Colleen Coble
Running for her life in the wake of her mother's murder, Bailey Fleming escapes to the only place she can think of—a remote, dilapidated cabin in Lavender Tides. Intending to finally get to the truth behind the lies of her past, Bailey only finds more questions when bodies are discovered near her cabin hideout along with traces of a dangerous human trafficking ring. In an unlikely partnership with FBI agent Lance Phoenix, Bailey races to understand the mystery surrounding her life and circumstances before the murderer tracks her down.
Meanwhile, Lance is determined to rescue his sister, Ava, who was abducted after running away from home as a teenager. An unexpected lead brings him to the remote cabin, and he wonders if Bailey—with her suspicious past and strange connections to his sister's case—is really who she claims to be and if she can somehow lead him to Ava.
Filled with Colleen Coble's custom blend of suspense and romance, Secrets at Cedar Cabin takes us back to the evocative landscape of Washington's coast where nothing is quite as it seems.

Purchase Links
___________________________
For attorney Mick McFarland, the evidence is damning. And so are the family secrets in this twisty legal thriller from the Amazon Charts bestselling author of A Criminal Defense.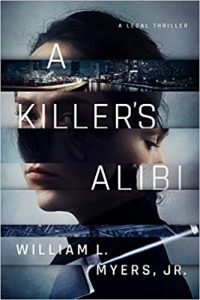 A Killer's Alibi by William L. Myers, Jr.
When crime lord Jimmy Nunzio is caught, knife in hand, over the body of his daughter's lover and his own archenemy, he turns to Mick McFarland to take up his defense. Usually the courtroom puppeteer, McFarland quickly finds himself at the end of Nunzio's strings. Struggling to find grounds for a not-guilty verdict on behalf of a well-known killer, Mick is hamstrung by Nunzio's refusal to tell him what really happened.
On the other side of the law, Mick's wife, Piper, is working to free Darlene Dowd, a young woman sentenced to life in prison for her abusive father's violent death. But the jury that convicted Darlene heard only part of the truth, and Piper will do anything to reveal the rest and prove Darlene's innocence.
As Mick finds himself in the middle of a mob war, Piper delves deeper into Darlene's past. Both will discover dark secrets that link these fathers and daughters—some that protect, some that destroy, and some that can't stay hidden forever. No matter the risk.

Purchase Links
___________________________

Please fill out our super short registration form (click the "Enter Now" button above) by January 31st for a chance to win a set of up to ten copies of one of these great books for your book club! We will randomly choose a winner at the end of the month. This giveaway is open to clubs in the US only (our apologies to friends in other countries). 
Best of luck!
We 
LOVE

 Book Clubs!