Join us for an Instagram tour for
Paperback: 308 Pages
Publisher: Ambassador International (March 15, 2019)
Ten years after a brutal war, cannibals and humans fight over the pieces of a hardscrabble existence. Former Navy SEAL Doyle has been prowling the broken remnants of a devastated America for years. Alone in an armored bus loaded with weapons and supplies, he's grateful for his solitude. Being alone makes it easier to survive, as others can become a liability in the end of the world. But when a particularly brutal attack leaves Doyle in need of fuel and repair, he has no choice but to venture into the nearest settlement.
.
Jonathan has been pastoring a small church of Christians in that same settlement, but when he meets Doyle he sees an opportunity to expand his ministry. Cannibals have kept everyone from traveling, but Doyle's armored transport and weapons bring hope to his small band of followers. The two men strike up a mutually beneficial bargain, but neither of them realizes that this journey will change them in ways they could never have imagined.
.
As they search for other believers, they must battle cannibals, militant atheists, and a mysterious super soldier. Doyle's unbelief and Jonathan's faith will collide in this action-packed wasteland.
Solitary Man is a gritty, action-packed post-apocalyptic story with a solid, Biblical worldview.

Purchase Links
About Eric Landfried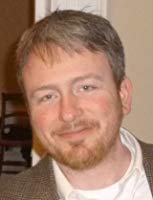 Solitary Man is Eric's debut novel. Eric lives in New Hampshire with his wife Kristen and son Nathan. He is excited to begin a new chapter in his life that involves doing something he has always loved, and he is eternally grateful for this opportunity to share his thoughts and ideas with the world.
Connect with Eric
Instagram tour:
Monday, March 18th: @thecityofdarkclockwork
Tuesday, March 19th: @beritaudiokilledthebookmark
Wednesday, March 20th: @brokenteepee
Thursday, March 21st: @booksonthebookshelf
Friday, March 22nd: @jennblogsbooks
TOUR REPLAY: @TLCBookTours