Join us for an Instagram tour for
Age Range: 4 – 8 years
Grade Level: 1 – 2
Hardcover: 32 pages
Publisher: Page Street Kids (March 19, 2019)
This charming, energetic story shows the power of friendship through the teamwork of a lovably mismatched pair. Confident Frannie convinces cautious Pepper to give skateboarding a try, but Pepper's attempts are not all smooth sailing. Luckily, she has a supportive and enthusiastic friend to cheer her on and help her realize her potential. This story is a relatable look at the ups and downs of trying something new, with an encouraging message about the importance of persevering.
Sweet, lively illustrations complement this empowering tale about learning to fall and to get back up again.

Purchase Links
.
About Catherine Lazar Odell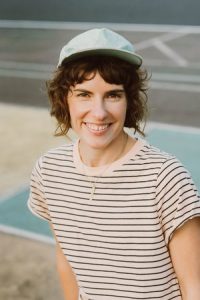 Catherine Lazar Odell is a freelance illustrator and debut picture book author. She studied Industrial Design at Syracuse University and played cello in a touring band before returning to drawing. In her free time, she enjoys riding through the woods on her skateboard. She currently lives in Portland, Oregon, where she sells art at local street fairs.
.
Connect with Catherine
Instagram Tour:
Monday, March 18th: @theliteraryllama
Monday, March 18th: @dropandgivemenerdy
Wednesday, March 20th: @read.write.coffee
Wednesday, March 20th: @ladyofthelibrary
Thursday, March 21st: @stephaniehowell
Thursday, March 21st: @babybibliophile
Friday, March 22nd: @lifewithrubyandconner
Sunday, March 24th: @love_my_dane_dolly_
Monday, March 25th: @jenslusser
TOUR REPLAY: @TLCBookTours