Join us for an Instagram and review tour for
Hardcover: 352 Pages
Publisher: Park Row; Original edition (March 26, 2019)
A librarian's discovery of a mysterious book sparks the journey of a lifetime in the delightful new novel from the international bestselling author of The Curious Charms of Arthur Pepper
Librarian Martha Storm has always found it easier to connect with books than people—though not for lack of trying. She keeps careful lists of how to help others in her superhero-themed notebook. And yet, sometimes it feels like she's invisible.
All of that changes when a book of fairy tales arrives on her doorstep. Inside, Martha finds a dedication written to her by her best friend—her grandmother Zelda—who died under mysterious circumstances years earlier. When Martha discovers a clue within the book that her grandmother may still be alive, she becomes determined to discover the truth. As she delves deeper into Zelda's past, she unwittingly reveals a family secret that will change her life forever.
Filled with Phaedra Patrick's signature charm and vivid characters, The Library of Lost and Found is a heartwarming and poignant tale of how one woman must take control of her destiny to write her own happy ending.

Purchase Links
About Phaedra Patrick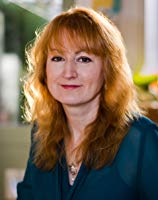 Phaedra Patrick studied art and marketing and has worked as a stained glass artist, film festival organizer and communications manager. She is a prize winning short story writer and now writes full time.
She lives in the UK with her husband and son. The Curious Charms of Arthur Pepper is her debut novel.
Connect with Phaedra
Instagram tour:
Monday, March 25th: @simoneandherbooks
Wednesday, March 27th: @wherethereadergrows
Wednesday, March 27th: @stephaniehowell
Thursday, March 28th: @hotcocoareads
Friday, March 29th: @readingbringsjoy
Saturday, March 30th: @whatmeganreads
Sunday, March 31st: @oddandbookish
Monday, April 1st: @prose_and_palate
Wednesday, April 10th: @ladyofthelibrary
TOUR REPLAY: @TLCBookTours
Review tour:
Monday, March 25th: Reading Reality
Tuesday, March 26th: A Lovely Bookshelf on the Wall
Wednesday, March 27th: A Bookish Way of Life
Wednesday, March 27th: From the TBR Pile
Thursday, March 28th: The Sketchy Reader
Friday, March 29th: Tar Heel Reader and @tarheelreader
Monday, April 1st: @bookstackedblonde
Monday, April 1st: Into the Hall of Books
Tuesday, April 2nd: Cheryl's Book Nook
Wednesday, April 3rd: Patricia's Wisdom
Thursday, April 4th: The Hungry Bookworm
Thursday, April 4th: @worldswithinpages
Friday, April 5th: What is That Book About
Monday, April 8th: @thegraduatedbookworm
Monday, April 8th: Amy's Book-et List
Tuesday, April 9th: Novel Gossip and @novelgossip
Wednesday, April 10th: Read Eat Repeat
Thursday, April 11th: Girl Who Reads
Friday, April 12th: Kahakai Kitchen
Monday, April 15th: Jessicamap Reviews and @jessicamap
Tuesday, April 16th: Books & Bindings
Wednesday, April 17th: Audio Killed the Bookmark and @beritaudiokilledthebookmark
Thursday, April 18th: A Splendid Messy Life
Friday, April 19th: @jackiereadsbooks
Monday, April 22nd: Jathan & Heather
Tuesday, April 23rd: @novelmombooks
Wednesday, April 24th: Bookchickdi
Thursday, April 25th: Ms. Nose in a Book
Friday, April 26th: Thoughts on This 'n That