We have gathered up some romantic titles for this special LOVE IS IN THE AIR book club giveaway!
__________________________________
Get ready for a romantic escapade through dark halls and dusty corners that will have you holding your breath and sighing with delight as two charming characters get caught up in the adventure of uncovering the past and finding their way to an unexpected future.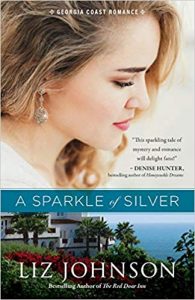 A Sparkle of Silver (Georgia Coast Romance, Book 1) by Liz Johnson
Ninety years ago, Millie Sullivan's great-grandmother was a guest at oil tycoon Howard Dawkins' palatial estate on the shore of St. Simons Island, Georgia. Now, Millie plays a 1920s-era guest during tours of the same manor. But when her grandmother suggests that there is a lost diary containing the location of a hidden treasure on the estate, along with the true identity of Millie's great-grandfather, Millie sets out to find the truth of her heritage–and the fortune that might be hers. When security guard Ben Thornton discovers her snooping in the estate's private library, he threatens to have her fired. But her story seems almost too ludicrous to be fiction, and her offer to split the treasure is too tempting to pass up . . .

Purchase Links
__________________________________
True to its name, the small southern town of Sugar Lake is a sweet place to visit—and you might even want to live there . . .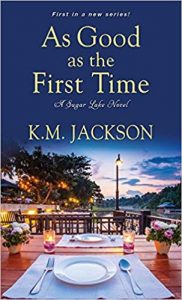 As Good as the First Time (Sugar Lake, Book 1) by K. M. Jackson
With her big city career and relationship in sudden free fall, Olivia Gale isn't sure where she belongs. So when her help is needed at Goode N' Sweet, the family bakery in Sugar Lake, she jumps at the chance to indulge her pie-making hobby while getting her life back on track. Olivia's not looking for any distractions. Even if the boy who once left her without a word is now a grown man with intriguing secrets—and the same tempting hold on her heart . . .
A firefighter and single dad, Clayton Morris is trying hard to fix his past mistakes. He thought he was doing the right thing by leaving Olivia—and now he's sure he has nothing to offer the accomplished woman she's become. But ignoring the sparks between them is impossible. And as unexpected surprises and hard choices endanger their fragile reunion, they'll have to decide which direction to take if they want to find the road back to love . . .

Purchase Links
__________________________________

Please fill out our super short registration form (click the "Enter Now" button above) by December 31st for a chance to win a set of up to ten copies of one of these great books for your book club! We will randomly choose a winner at the end of the month. This contest is open to clubs in the US only (our apologies to friends in other countries). 
.
Best of luck!
We 
LOVE

 Book Clubs!