About Half of What You Hear
• Paperback: 384 pages
• Publisher: Harper Paperbacks (December 31, 2018)
"Perfect for fans of Big Little Lies." –Kirkus
7 December Books You'll Tear Through Faster Than the Wrapping On Your Holiday Gifts, InStyle
8 Books We Can't Wait to Read in December, PureWow
8 Unbelievable Books to Read December 2018, Women.com
From well-loved women's fiction writer Kristyn Kusek Lewis comes a breakout novel about a woman moving to a small community and uncovering the many secrets that hide behind closed doors—perfect for fans of Liane Moriarty and Elin Hilderbrand.
Greyhill, Virginia—refuge of old money, old mansions, and old-fashioned ideas about who belongs and who doesn't—just got a few new residents. When Bess Warner arrives in town with her husband Cole and their kids, she thinks she knows what to expect. Sure, moving to Cole's small hometown means she'll have to live across the street from her mother-in-law, and yes, there's going to be a lot to learn as they take over Cole's family's inn-keeping business, but Bess believes it will be the perfect escape from Washington. She needs it to be. After losing her White House job under a cloud of scandal, she hardly knows who she is anymore.
But Bess quickly discovers that fitting in is easier said than done. Instead of the simpler life she'd banked on, she finds herself preoccupied by barbed questions from gossipy locals and her own worries over how her twins are acclimating at the town's elite private school. When the opportunity to write an article for the Washington Post's lifestyle supplement falls into Bess's lap, she thinks it might finally be her opportunity to find her footing here…even if the subject of the piece is Greyhill's most notorious resident.
Susannah "Cricket" Lane, fruit of the town's deepest-rooted family tree, is a special sort of outsider, having just returned to Greyhill from New York after a decades-long hiatus. The long absence has always been the subject of suspicion, not that the eccentric Susannah cares what anyone thinks; as a matter of fact, she seems bent on antagonizing as many people as possible. But is Susannah being sincere with Bess—or is she using their strangely intense interview sessions for her to further an agenda that includes peeling back the layers of Greyhill's darkest secrets?
As Bess discovers unsettling truths about Susannah and Greyhill at large, ones that bring her into the secrets of prior generations, she begins to learn how difficult it is to start over in a town that runs on talk, and that sometimes, the best way to find yourself is to uncover what everyone around you is hiding….
Social Media
Please use the hashtag #halfofwhatyouhear and tag @tlcbooktours, @harperperennial, and @kristynkuseklewis.

Purchase Links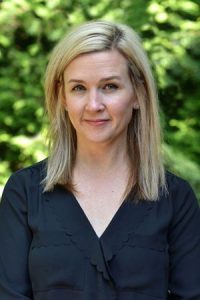 About Kristyn Kusek Lewis
Kristyn Kusek Lewis is the author of Save Me and How Lucky You Are. A former magazine editor at Glamour and Child, Kristyn has been writing for national publications for nearly twenty years. Her work has appeared in the New York Times; O, The Oprah Magazine; Real Simple; Reader's Digest; Glamour; Self; Redbook; Cosmopolitan; Marie Claire; Parents; Allure; Good Housekeeping; Cooking Light; Health; Men's Health; the New York Daily News; and many more. Kristyn is a graduate of the College of the Holy Cross and the Vermont College of Fine Arts, where she earned an MFA in creative writing. She lives in the Washington, DC, area with her family.
Find out more about Kristyn at her website, and connect with her on Twitter, Facebook, and Instagram. You can also follow her on Pinterest and Goodreads.
Instagram Features
Monday, December 31st: Instagram: @brookesbooksandbrews
Monday, December 31st: Instagram: @books.coffee.cats
Thursday, January 3rd: Instagram: @jessicamap
Friday, January 4th: Instagram: @crystals_library
Saturday, January 5th: Instagram: @megabunnyreads
Tuesday, January 8th: Instagram: @tbretc
Wednesday, January 9th: Instagram: @libraryinprogress
Tour Replay – @TLCBookTours