Join us for an Instagram tour for
Series: Blue Hollow Falls (Book 3)
Mass Market Paperback: 368 pages
Publisher: Zebra (January 29, 2019)
In the beautiful Blue Ridge Mountains lies a small town with a big heart—and a chance to begin again . . .
When Hannah Montgomery buys a lavender farm in Blue Hollow Falls with three friends, she's creating a life she never imagined—one she hopes will honor the memory of the sweet young son she tragically lost years ago. Standing on the porch of the sprawling farmhouse, looking out on row upon row of those lush purple plumes, Hannah is ready to embrace this fresh, new start . . .
Then she meets Wilson McCall. The stonemason hired to fix their crumbling chimneys and leaky roof is quieter than most folks in the Falls. Hannah's not surprised to learn the widower struggles with his own grief. Who could blame her if she finds joy in making Will laugh again, or if she feels a poignant kinship when she sees him with his teenaged son?  But her deepening friendship with Will reminds Hannah that there's a part of her that still needs to heal—awakening a tender yearning to have a life that isn't just good enough, but lived fully—even if that means taking risks once more . . .
"Charming characters, emotion galore, a small town—you're going to love Donna Kauffman!" —Lori Foster

Purchase Links
About Donna Kauffman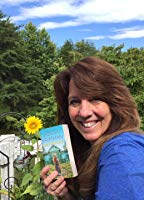 Donna Kauffman is the USA Today and Wall Street Journal bestselling author of over 70 novels, translated and sold in more than 26 countries around the world. The recipient of multiple RT Book Awards, she is also a National Readers Choice Award and PRISM Award winner and a RITA finalist. Born into the maelstrom of Washington, D.C., politics, she now lives in the Blue Ridge Mountains of Virginia, where she is surrounded by a completely different kind of wildlife. A contributing blogger for USAToday.com, she is also a DIYer, a baker, a gardener and a volunteer transporter for the Wildlife Center of Virginia and Rockfish Sanctuary. Please visit her online at www.DonnaKauffman.com.
Connect with Donna
Instagram tour:
Sunday, January 27th: @tlcbooktours – giveaway
Monday, January 28th: @oddandbookish
Tuesday, January 29th: @pnwbookworm
Wednesday, January 30th: @girlandherbooks
Friday, February 1st: @jennblogsbooks
Saturday, February 2nd: @mandyvoss
Sunday, February 3rd: @lesa_cap
Monday, February 4th: @thecaffeinated_bibliophile
Monday, February 11th: @_ebl_inc_