Join us for an Instagram tour for
Hardcover: 320 Pages
Publisher: Kensington (December 18, 2018)
A master of international intrigue, New York Times bestselling author Taylor Stevens introduces a pair of wild cards into the global spy game—a brother and sister who were raised to deceive—and trained to kill . . .
They live in the shadows, Jack and Jill, feuding twins who can never stop running. From earliest memory they've been taught to hide, to hunt, to survive. Their prowess is outdone only by Clare, who has always been mentor first and mother second. She trained them in the art of espionage, tested their skills in weaponry, surveillance, and sabotage, and sharpened their minds with nerve-wracking psychological games. As they grew older they came to question her motives, her methods—and her sanity . . .
Now twenty-six years old, the twins are trying to lead normal lives. But when Clare's off-the-grid safehouse explodes and she goes missing, they're forced to believe the unthinkable: Their mother's paranoid delusions have been real all along. To find her, they'll need to set aside their differences; to survive, they'll have to draw on every skill she's trained them to use. A twisted trail leads from the CIA, to the KGB, to an underground network of global assassins where hunters become the hunted. Everyone, it seems, wants them dead—and, for one of the twins, it's a threat that's frighteningly familiar and dangerously close to home . . .
Filled with explosive action, suspense, and powerful human drama, Liars' Paradox is world-class intrigue at its finest.

Purchase Links
About Taylor Stevens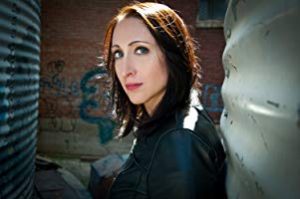 TAYLOR STEVENS is a critically acclaimed, multiple award-winning, New York Times bestselling author of international thrillers including the breakout hit The Informationist. Best known for high-octane stories populated with fascinating characters in vivid boots-on-the-ground settings, her books have been optioned for film and published in over twenty languages.
Stevens came to writing fiction late. Born into an apocalyptic cult, separated from her family at age twelve, and denied an education beyond sixth grade, she lived on three continents and in a dozen countries before she turned fourteen. In place of schooling, the majority of her adolescence was spent begging on city streets at the behest of cult leaders, or as a worker bee child, caring for the many younger commune children, washing laundry and cooking meals for hundreds at a time. In her twenties, Stevens broke free in order to follow hope and a vague idea of what possibilities lay beyond. She now lives in Dallas with her two children and an ever-growing menagerie of pets.
In addition to writing novels, Stevens podcasts weekly at www.taylorstevensshow.com where, together with co-host Stephen Campbell, she tackles listener submitted questions, solves writing problems, and generally teaches others how to kick writing in the butt one word at a time. The accompanying video tutorials are posted free at www.patreon.com/taylorstevens under the HACK THE CRAFT tag. For fans and readers who prefer email, she shares extensively about the mechanics of storytelling, writing, overcoming adversity, and the details of her journey into publishing at http://www.taylorstevensbooks.com/connect.php.
Connect with Taylor
Instagram tour:
Tuesday, January 1st: @amberafterglowreads
Wednesday, January 2nd: @katielmae
Thursday, January 3rd: @scaredstraightreads
Friday, January 4th: @bookclubwithbite
Monday, January 7th: @wherethereadergrows
Wednesday, January 9th: @sarahs_reads
Thursday, January 10th: @jessicamap
Tour Replay – @TLCBookTours