Please join us for the Instagram and Review tour for
Hardcover: 288 Pages
Publisher: SJP for Hogarth (January 29, 2019)
A new novel from Sarah Jessica Parker's imprint, SJP for Hogarth: a deeply affecting debut novel set in Trinidad, following the lives of a family as they navigate impossible choices about scarcity, loyalty, and love
"Golden Child is a stunning novel written with force and beauty.  Though true to herself, Adam's work stands tall beside icons of her tradition like V.S. Naipaul."—Jennifer Clement, author of Gun Love
Rural Trinidad: a brick house on stilts surrounded by bush; a family, quietly surviving, just trying to live a decent life. Clyde, the father, works long, exhausting shifts at the petroleum plant in southern Trinidad; Joy, his wife, looks after the home. Their two sons, thirteen years old, wake early every morning to travel to the capital, Port of Spain, for school. They are twins but nothing alike: Paul has always been considered odd, while Peter is widely believed to be a genius, destined for greatness.
When Paul goes walking in the bush one afternoon and doesn't come home, Clyde is forced to go looking for him, this child who has caused him endless trouble already, and who he has never really understood. And as the hours turn to days, and Clyde begins to understand Paul's fate, his world shatters—leaving him faced with a decision no parent should ever have to make.
Like the Trinidadian landscape itself, GOLDEN CHILD is both beautiful and unsettling; a resoundingly human story of aspiration, betrayal, and love.

Purchase Links
About Claire Adam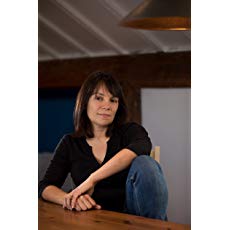 Claire Adam was born and raised in Port of Spain, Trinidad and Tobago. She lives with her husband and two children in London, England. GOLDEN CHILD is her first novel.
Connect with Claire
Instagram Tour:
Monday, January 28th: @hotcocoareads
Tuesday, January 29th: @prose_and_palate
Tuesday, January 29th: @bookstackedblonde
Tuesday, January 29th: @dropandgivemenerdy
Wednesday, January 30th: @jennblogsbooks
Thursday, January 31st: @readingbetweenthe_wines
Thursday, January 31st: @bookishmadeleine
Friday, February 1st: @tbretc
Sunday, February 3rd: @bookclubwithbite
TOUR REPLAY: @TLCBookTours
Review Tour:
Wednesday, January 30th: BookNAround
Thursday, January 31st: Amy's Book-et List
Monday, February 4th: Run Wright
Tuesday, February 5th: @booksandpolkadots
Wednesday, February 6th: Book by Book
Thursday, February 7th: Palmer's Page Turners
Monday, February 11th: Bookchickdi
Tuesday, February 12th: Books and Cats and Coffee
Wednesday, February 13th: Kahakai Kitchen
Thursday, February 14th: Lit and Life
Friday, February 15th: Thoughts from a Highly Caffeinated Mind
Monday, February 18th: Booktimistic and @booktimistic
Tuesday, February 19th: A Bookish Affair
Friday, February 22nd: Eliot's Eats
Sunday, February 24th: @worldswithinpages
Monday, February 25th: Patricia's Wisdom
Monday, February 25th: @wherethereadergrows
Tuesday, February 26th: Tar Heel Reader and @tarheelreader
Wednesday, February 27th: @thesaggingbookshelf
Thursday, February 28th: Wining Wife
Friday, March 1st: Thoughts on This 'n That