Join us for an Instagram tour for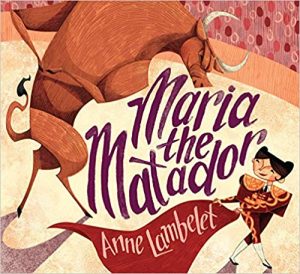 Age Range: 4 – 8 years
Grade Level: Preschool – 2
Hardcover: 32 Pages
Publisher: Page Street Kids (February 5, 2019)
Maria loves tea parties and dancing and wearing her hair in pigtails, but more than anything in the world…Maria loves churros.
She'll do anything to get her hands on more of them, even enter a bullfight. To win, she must outsmart the other matadors who don't think she's big enough, fast enough, or strong enough. With determination and creativity, spunky Maria will dance her way to victory–and into readers' hearts.
Complemented by distinct, expressive illustrations, this charming story shows that you don't have to fight to win, and you might even end up with more than you were hoping for.

Purchase Links
About Anne Lambelet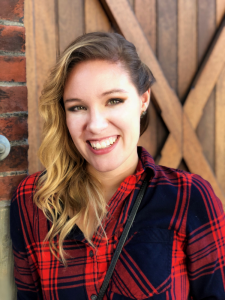 Anne Lambelet is a strong believer in solving issues with pacifism and dessert foods. She received her illustration degree from the University of the Arts,where she was awarded the Roger T. Hane award for the top senior illustration portfolio. The first picture book she illustrated, Get to Know Your Parks / Conozca sus Parques, was an educational introduction to the National Park Services, and she has also done several middle-grade fiction covers. She currently lives in Philadelphia with her husband, dog, and cat.
Connect with Anne
Instagram tour schedule:
Monday, February 4th: @dropandgivemenerdy
Wednesday, February 6th: @love_my_dane_dolly
Thursday, February 7th: @jackiereadsbooks
Friday, February 8th: @hollyslittlebookreviews
Saturday, February 9th: @parachute_mom
Sunday, February 10th: @booksandpolkadots
Monday, February 11th: @ladyofthelibrary
Saturday, February 16th: @tlcbooktours – TOUR REPLAY