Join us for an Instagram tour for
Hardcover: 400 Pages
Publisher: Inkyard Press; Original edition (December 18, 2018)
How many dates will it take to find The One? 
Ji-su's traditional South Korean parents are concerned by what they see as her lack of attention to her schoolwork and her future. Working with Seoul's premiere matchmaker to find the right boyfriend is one step toward ensuring Ji-su's success, and going on the recommended dates is Ji-su's compromise to please her parents while finding space to figure out her own dreams. But when she flubs a test then skips out on a date to spend time with friends, her fed-up parents shock her by shipping her off to a private school in San Francisco. Where she'll have the opportunity to shine academically—and be set up on more dates!
Navigating her host family, her new city and school, and more dates, Ji-su finds comfort in taking the photographs that populate her ever-growing social media account. Soon attention from two very different boys sends Ji-su into a tailspin of soul-searching. As her passion for photography lights her on fire, does she even want to find The One? And what if her One isn't parent and matchmaker approved?

Purchase Links
About Melissa de la Cruz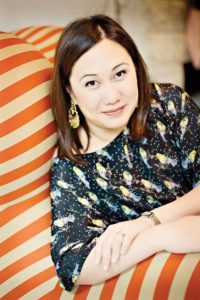 Melissa de la Cruz is the #1 New York Times, #1 Publishers Weekly and #1 IndieBound bestselling author of Isle of the Lost and Return to the Isle of the Lost as well as many critically acclaimed and award-winning novels for readers of all ages. Her books have also topped the USA TODAY, Wall Street Journal and Los Angeles Times bestseller lists and have been published in more than twenty countries.
A former fashion and beauty editor, Melissa has written for the New York Times, Marie Claire,Harper's Bazaar, Glamour, Cosmopolitan, Allure, the San Francisco Chronicle,McSweeney's, Teen Vogue, CosmoGirl! and Seventeen. She has also appeared as an expert on fashion, trends and fame for CNN, E! and Fox News.
Melissa grew up in Manila and moved to San Francisco with her family, where she graduated high school salutatorian from the Convent of the Sacred Heart. At Columbia University, she majored in art history and English. Today she lives in Los Angeles and Palm Springs with her husband and daughter.
Connect with Melissa
Instagram tour:
Monday, December 17th: @librarycutie
Monday, December 17th: @bookswrotemystory
Tuesday, December 18th: @readforevermore
Tuesday, December 18th: @everlasting.charm
Wednesday, December 19th: @diamondxgirl
Thursday, December 20th: @ladyofthelibrary
Friday, December 21st: @sweetbookobsession
Saturday, December 22nd: @ravenousreader
Sunday, December 23rd: @the_readers_nook
Monday, December 31st: @intothepagesofficial
TOUR REPLAY: @tlcbooktours