Join us for an Instagram tour for
Hardcover: 256 Pages
Publisher: Bantam (November 20, 2018)
Louis L'Amour's long-lost first novel, faithfully completed by his son, takes readers on a voyage into danger and violence on the high seas.
 
Fate is a ship.
As the shadows of World War II gather, the SS Lichenfield is westbound across the Pacific carrying eighty thousand barrels of highly explosive naphtha. The cargo alone makes the journey perilous, with the entire crew aware that one careless moment could lead to disaster.
But yet another sort of peril haunts the Lichenfield. Even beyond their day-to-day existence, the lives of the crew are mysteriously intertwined. Though each has his own history, dreams and jealousies, longing and rage, all are connected by a deadly web of chance and circumstance.
Some are desperately fleeing the past; others chase an unknown destiny. A few are driven by the desire for adventure, while their shipmates cling to the Lichenfield as their only true home. In their hearts, these men, as well as the women and children they have left behind, carry the seeds of salvation or destruction. And all of them—kind or cruel, strong or broken—are bound to the fate of the vessel that carries them toward an ever-darkening horizon.
Inspired by Louis L'Amour's own experiences as a merchant seaman, No Traveller Returns is a revelatory work by a world-renowned author—and a brilliant illustration of a writer discovering his literary voice.

Purchase Links
About Louis and Beau L'Amour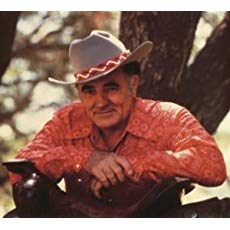 "I think of myself in the oral tradition–as a troubadour, a village tale-teller, the man in the shadows of a campfire. That's the way I'd like to be remembered–as a storyteller. A good storyteller."
It is doubtful that any author could be as at home in the world re-created in his novels as Louis Dearborn L'Amour. Not only could he physically fill the boots of the rugged characters he wrote about, but he literally "walked the land my characters walk." His personal experiences as well as his lifelong devotion to historical research combined to give Mr. L'Amour the unique knowledge and understanding of people, events, and the challenge of the American frontier that became the hallmarks of his popularity.
Of French-Irish descent, Mr. L'Amour could trace his own in North America back to the early 1600s and follow their steady progression westward, "always on the frontier." As a boy growing up in Jamestown, North Dakota, he absorbed all he could about his family's frontier heritage, including the story of his great-grandfather who was scalped by Sioux warriors.
Spurred by an eager curiosity and desire to broaden his horizons, Mr. L'Amour left home at the age of fifteen and enjoyed a wide variety of jobs, including seaman, lumberjack, elephant handler, skinner of dead cattle, and miner, and was an officer in the transportation corps during World War II. During his "yondering" days he also circled the world on a freighter, sailed a dhow on the Red Sea, was shipwrecked in the West Indies and stranded in the Mojave Desert. He won fifty-one of fifty-nine fights as a professional boxer and worked as a journalist and lecturer. He was a voracious reader and collector of rare books. His personal library contained 17,000 volumes.
Mr. L'Amour "wanted to write almost from the time I could talk." After developing a widespread following for his many frontiers and adventure stories written for fiction magazines, Mr. L'Amour published his first full length novel, Hondo, in the United States in 1953. Every one of his more than 120 books is in print; there are more than 300 million copies of his books in print worldwide, making him one of the bestselling authors in modern literary history. His books have been translated into twenty languages, and more than forty-five of his novels and stories have been made into feature films and television movies.
The recipient of many great honor and awards, in 1983 Mr. L'Amour became the first novelist to ever to be awarded the Congressional Gold Medal by the United States Congress in honor of his life's work. In 1984 he was also awarded the Medal of Freedom by President Reagan.
Louis L'Amour died on June 10, 1988. His wife, Kathy, and their two children, Beau and Angelique, carry the L'Amour publishing tradition forward with new books written by the author during his lifetime to be published by Bantam.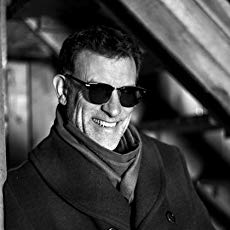 Our foremost storyteller of the American West, Louis L'Amour has thrilled a nation by chronicling the adventures of the brave men and woman who settled the frontier. There are more than three hundred million copies of his books in print around the world.
Beau L'Amour is a writer, art director, and editor. He has written and produced several films, including USA Network's The Diamond of Jeru. Since 1988 he has been the manager of the estate of his father, Louis L'Amour.
For more info on Louis:
Connect with Beau:
Instagram tour schedule:
Tuesday, November 27th: @sarahs_reads
Wednesday, November 28th: @readers_journey
Thursday, November 29th: @booksonherbrain
Friday, November 30th: @book.hang.o.ver
Sunday, December 2nd: @thesaggingbookshelf
Thursday, December 6th: @happiestwhenreading
Monday, December 10th: @TLCBookTours TOUR REPLAY