Hardcover: 304 Pages
Publisher: Blink (January 15, 2019)
A Groundhog Day meets Pretty in Pink mashup from author Laurie Boyle Crompton, Pretty in Punxsutawney tells the tale of a girl willing to look beneath the surface to see people for who they really are.
Andie is the type of girl who always comes up with the perfect thing to say…after it's too late to say it. She's addicted to romance movies—okay, all movies—but has yet to experience her first kiss. After a move to Punxsutawney, PA, for her senior year, she gets caught in an endless loop of her first day at her new school, reliving those 24 hours again and again.
Convinced the curse will be broken when she meets her true love, Andie embarks on a mission: infiltrating the various cliques to find the one boy who can break the spell. What she discovers along the way is that people who seem completely different can often share the very same hopes, dreams, and hang-ups. And that even a day that has been lived over and over can be filled with unexpected connections and plenty of happy endings.

Purchase Links
About Laurie Boyle Crompton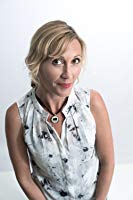 Laurie Boyle Crompton is the author of several YA books, including Adrenaline Crush and Love and Vandalism. Laurie graduated first in her class from St. John's University with a BA in English and Journalism. She has written for national magazines like Allure, survived a teaching stint at an all-boy high school, and appeared onGood Day New York several times as a toy expert. And yes, "toy expert" is an actual profession. She grew up in a small town in western PA and now lives near NYC with her family and one enormous and very fuzzy "dog toy expert" named Baxter Bear.
Connect with Laurie
Laurie Boyle Crompton's TLC Book Tours TOUR STOPS:
Monday, January 14th: Bookmark Lit
Monday, January 14th: @bookish_nel
Tuesday, January 15th: Books Before Bedtime and @booksbeforebedtime
Wednesday, January 16th: A Bookish Way of Life
Thursday, January 17th: @the_readers_nook
Monday, January 21st: Run Wright
Tuesday, January 22nd: 100 Pages a Day
Thursday, January 24th: Blooming with Books
Friday, January 25th: Book Fidelity
Friday, January 25th: Rockin' Book Reviews
Friday, January 25th: @katielmae
Monday, January 28th: From the TBR Pile
Wednesday, January 30th: Diary of a Stay at Home Mom
Thursday, January 31st: Kahakai Kitchen
Saturday, February 2nd: @love_my_dane_dolly
Monday, February 4th: Christian Chick's Thoughts
Tuesday, February 5th: Write Read Life
Wednesday, February 6th: Helen's Book Blog