Hardcover: 304 Pages
Publisher: Blink (January 15, 2019)
A Groundhog Day meets Pretty in Pink mashup from author Laurie Boyle Crompton, Pretty in Punxsutawney tells the tale of a girl willing to look beneath the surface to see people for who they really are.
Andie is the type of girl who always comes up with the perfect thing to say…after it's too late to say it. She's addicted to romance movies—okay, all movies—but has yet to experience her first kiss. After a move to Punxsutawney, PA, for her senior year, she gets caught in an endless loop of her first day at her new school, reliving those 24 hours again and again.
Convinced the curse will be broken when she meets her true love, Andie embarks on a mission: infiltrating the various cliques to find the one boy who can break the spell. What she discovers along the way is that people who seem completely different can often share the very same hopes, dreams, and hang-ups. And that even a day that has been lived over and over can be filled with unexpected connections and plenty of happy endings.

Purchase Links
About Laurie Boyle Crompton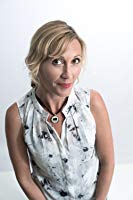 Laurie Boyle Crompton is the author of, BLAZE, THE REAL PROM QUEENS OF WESTFIELD HIGH and LOVE AND VANDALISM (Sourcebooks 2013, 2014, 2017), ADRENALINE CRUSH (FSG/Macmillan 2014, Square Fish 2016), and the upcoming PRETTY IN PUNXSUTAWNEY (Blink/HarperCollins 2019). Laurie graduated first in her class from St. John's University with a BA in English and Journalism. Since then, she's written for national magazines like ALLURE, survived a teaching stint at an all-boys high school, and appeared on Good Day New York several times as a Toy Expert. And yes, a 'toy expert' is an actual thing that people sometimes get to be.
She has lived in places like Orlando, Florida where she and her husband spent all of their spare time and money visiting theme parks before moving to the Cotswolds in England for six months, which was every bit as cool as that sounds. The Cromptons are now back in New York where their two children resent never getting to visit Disney or the Cotswolds.
Connect with Laurie