A dedicated giveaway for book clubs!
A timely high school "American Psycho" thriller that could lead to a polarizing discussion for book clubs during the #MeToo movement.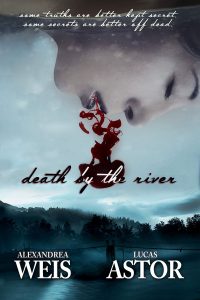 Death by the River by Alexandrea Weis and Lucas Astor
SOME TRUTHS ARE BETTER KEPT SECRET.
SOME SECRETS ARE BETTER OFF DEAD.
Along the banks of the Bogue Falaya River, sits the abandoned St. Francis Seminary. Beneath a canopy of oaks, blocked from prying eyes, the teens of St. Benedict High gather here on Fridays. The rest of the week belongs to school and family—but weekends belong to the river.
And the river belongs to Beau Devereaux.
The only child of a powerful family, Beau can do no wrong. Handsome. Charming. Intelligent. The star quarterback of the football team. The "prince" of St. Benedict is the ultimate catch.
He is also a psychopath.
A dirty family secret buried for years, Beau's evil grows unchecked. In the shadows of the ruined St. Francis Abbey, he commits unspeakable acts on his victims and ensures their silence with threats and intimidation. Senior year, Beau sets his sights on his girlfriend's headstrong twin sister, Leslie, who hates him. Everything he wants but cannot have, she will be his ultimate prize.
As the victim toll mounts, it becomes crystal clear that someone has to stop Beau Devereaux.
And that someone will pay with their life.
WARNING: Readers of Death by the River will encounter situations of violence and sexual abuse which could be upsetting to the reader.
Abandon hope all ye who enter here …

Purchase Links
__________________________________

Please fill out our super short registration form (click the "Enter Now" button above) by October 31st for a chance to win a set of up to ten copies of Death by the River by Alexandrea Weis and Lucas Astor for your book club! We will randomly choose a winner at the end of the month. This contest is open to clubs in the US only (our apologies to friends in other countries). 
.
Best of luck!
We 
LOVE

 Book Clubs!