Join us for an Instagram tour for
the SIREN COVE Series
Mass Market Paperback: 352 Pages
Publisher: Lyrical Press (November 27, 2018)
On the coast of Oregon, the small town of Siren Cove harbors frightening secrets . . .
 
NATURAL BEAUTY
Antiques shop owner Paige Shephard has a good eye for finding rare treasures in other people's junk. But when it comes to her love life, her instincts aren't so sharp. If only she could stop comparing every man she meets to her best friend, Quentin Radcliff . . .
A LAID-BACK LIFESTYLE
Opening a new restaurant in his former hometown of Siren Cove gives Quentin a much-needed break from the string of women he's been dating—and allows him the space to reconnect with Paige. But being with her after all this time awakens a long-denied desire.
 
AN INESCAPABLE DANGER
With Quentin at her side—and in her bed—Paige should be happy at last. But she's unsettled by a series of break-ins at her shop. Figuring out why she's being targeted is as difficult as figuring out her complicated relationship with Quentin. And when a local woman disappears—and Quentin becomes the main suspect—they'll have to dig deep into the deadly secrets of Siren Cove's past to clear his name—and find any hope of a future together.

Purchase Links
Mass Market Paperback: 384 Pages
Publisher: Lyrical Press (January 30, 2018)
Visit Siren Cove, Oregon, for gorgeous beaches, miles of hiking, delightful small-town shops—and a dark side none of its residents could have possibly imagined . . .
Leah Grayson has lived in Siren Cove all her life. It's where she buried a time capsule with her fifth-grade class. Where she spent an unforgettable night on the beach with her first love. Where she married then divorced her rotten ex.
But there's something ugly going on in her pretty little town. When Leah organizes a reunion for her fifth-grade classmates to open their time capsule, they discover a roll of film no one remembers saving. Afterward, strange incidents begin happening. Warnings. Accidents. Random acts of vandalism.
Luckily, her first love is back in town, too. Ryan Alexander has made it big with a wildly popular social media startup, but he's still the same sweet, cynical man she fell for all those years ago. And the chemistry they felt as teenagers is as strong as ever.
A nostalgic fling turns deadly when someone is convinced Leah has the key to secrets long buried. With no way to know whom they can trust, Leah and Ryan will have to seek out the answers themselves . . .

Purchase Links
Mass Market Paperback: 336 Pages
Publisher:  Lyrical Press (June 26, 2018)
The small town of Siren Cove, Oregon, has everything you could want—and a few things you don't . . .
BREATHTAKING BEACHES
Artist Nina Hutton finds a lottery ticket on the beach, stuffs the crumpled paper in her pocket—then forgets all about it. Distracted and shaken by a series of break-ins at her home, Nina turns to her handsome new neighbor for help and protection again and again.
MILES OF HIKING TRAILS
Since the death of his wife in a drive-by shooting, Teague O'Dell has moved from the city to the small town of Siren Cove, determined that his daughter will grow up in a safe environment. But when the intriguing woman next door is plagued by a mysterious vandal, he wonders if his new home harbors unexpected dangers.
. . . AND HIDDEN THREATS
The winning lottery numbers have been revealed, and the owner will do whatever it takes to claim the prize. And the closer Nina and Teague get to each other, the closer they may get to exposing a horror that could cost them everything . . .

Purchase Links
About Jannine Gallant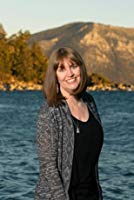 Write what you know. Jannine Gallant has taken this advice to heart, creating characters from small towns and plots that unfold in the great outdoors. A recent empty-nester, she grew up in a tiny Northern California town and currently lives in gorgeous Lake Tahoe with her husband. An avid outdoor enthusiast, Jannine hikes or snowshoes in the woods around her home with her dog, Ginger. You'll discover the beauty of nature interwoven into her fast-paced, romantic suspense stories. To find out more about this author and her books, visit her website or sign up for her newsletter HERE.
Connect with Jannine
Instagram Tour:
Monday, December 3rd: @jennblogsbooks
Tuesday, December 4th: @ladyofthelibrary
Tuesday, December 4th: @dropandgivemenerdy
Wednesday, December 5th: @booksbeforebedtime
Wednesday, December 5th: @girlandherbooks
Thursday, December 6th: @pnwbookworm
Friday, December 7th: @moonlight_rendezvous
Saturday, December 8th: @novelgossip
Sunday, December 9th: @jessicamap
Saturday, December 15th: @TLCBookTours TOUR REPLAY