About Summer at the Garden Café
• Paperback: 400 pages
• Publisher: Harper Perennial (September 4, 2018)
The second in Felicity Hayes-McCoy's Finfarran Peninsula series, and sequel to The Library at the Edge of the World—a heartwarming story about secrets between four generations of Irish women, and the healing powers of books, love, and friendship.
The Garden Café, next to Lissbeg library, is a place where plans are formed and secrets shared, and where, even in high tourist season, people are never too busy to stop for a sandwich and a cup of tea.
But twenty-one-year-old Jazz—daughter of the town's librarian Hanna Casey—has a secret she can't share. Still recovering from a car accident, and reeling from her father's disclosures about his long-time affair, she's taken a job at The Old Forge guesthouse, and begun to develop feelings for a man who's strictly off-limits.
Meanwhile, involved in her own new affair with architect Brian Morton, Hanna is unaware of the turmoil in Jazz's life—until her manipulative ex-husband, Malcom, reappears trying to mend his relationship with their daughter. Rebuffed at every turn, Malcolm must return to London, but his mother, Louisa, is on the case. Unbeknown to the rest of the family, she hatches a plan, finding an unlikely ally in Hanna's mother, the opinionated Mary Casey.
Watching Jazz unravel, Hanna begins to wonder if secrets which Malcolm has forced her to keep may have harmed their beloved daughter more than she'd realized. But then, the Casey women are no strangers to secrets, something Hanna realizes when she discovers a journal, long buried in land she inherited from her great-aunt Maggie. Ultimately, it's the painful lessons of the past that offer a way to the future, but it will take the shared experiences of four generations of women to find a way forward for Hanna and her family.
Social Media
Please use the hashtags #summeratthegardencafe, #felicityhayesmccoy, and #irishliterature, and tag @tlcbooktours and @harperperennial

Purchase Links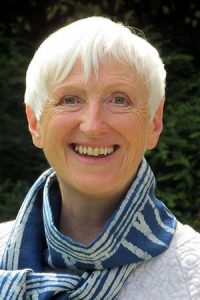 About Felicity Hayes-McCoy
Felicity Hayes-McCoy built a successful UK-based career as an actress and writer, working in theatre, music theatre, radio, TV, and digital media. She is the author of two memoirs, The House on an Irish Hillside and A Woven Silence: Memory, History & Remembrance, in addition to an illustrated book Enough Is Plenty: The Year on the Dingle Peninsula. She and her husband divide their time between London and Ireland.
Find out more about Felicity at her website, and follow her on Twitter.
Instagram Features
Monday, September 3rd: Instagram: @writersdream
Tuesday, September 4th: Instagram: @kate.olson.reads
Wednesday, September 5th: Instagram: @_ebl_inc_
Friday, September 7th: Instagram: @diaryofaclosetreader
Saturday, September 8th: Instagram: @sarahs_reads
Sunday, September 9th: Instagram: @biblio_files
Monday, September 10th: Instagram: @jackiereadsbooks