Join us for the Instagram tour for
Hardcover: 352 Pages
Publisher: Harlequin Teen; Original edition (October 23, 2018)
Some love stories aren't meant to last
Stella lives with depression, and her goals for junior year are pretty much limited to surviving her classes, staying out of her parents' constant fights and staving off unwanted feelings enough to hang out with her friends Lin and Katie.
Until Kevin. A quiet, wry senior who understands Stella and the lows she's going through like no one else. With him, she feels less lonely, listened to—and hopeful for the first time since ever…
But to keep that feeling, Stella lets her grades go and her friendships slide. And soon she sees just how deep Kevin's own scars go. Now little arguments are shattering. Major fights are catastrophic. And trying to hold it all together is exhausting Stella past the breaking point. With her life spinning out of control, she's got to figure out what she truly needs, what's worth saving—and what to let go.

Purchase Links
About Jennifer Yu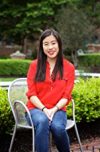 Jennifer Yu is a Boston resident and recent graduate of the University of Pennsylvania, where she studied creative writing. In her free time, she enjoys reading books she's too old for, roping unsuspecting friends into listening to her play the guitar, and being far too invested in Boston sports teams. Most of her pop culture knowledge comes from binge-watching late-night talk show clips and occasional, nervous forays into the depths of Tumblr.
Connect with Jennifer
Instagram tour stops
Monday, October 22nd: @theliteraryllama
Monday, October 22nd: @kate.olson.reads
Tuesday, October 23rd: @theshybooks
Tuesday, October 23rd: @everlasting.charm
Wednesday, October 24th: @dropandgivemenerdy
Wednesday, October 24th: @charli_the_book_princess
Friday, October 26th: @wherethereadergrows
Friday, October 26th: @booksandlala
Saturday, October 27th: @thebookishsisters
Sunday, October 28th: @throneofshatteredbooks
Monday, October 29th: @ravenousreader
Tuesday, December 11th: @TLCBookTours TOUR REPLAY