About If You Leave Me
• Hardcover: 432 pages
• Publisher: William Morrow (August 7, 2018)
"Heartrending . . . detailing the anguish of star-crossed love and familial duty, If You Leave Me is a story about how insidious war can be, how it can continue to fracture a family a generation after the fighting. A stunning feat of lyricism." — USA Today
"One of the most beautiful and moving love stories you'll read this year." — Nylon Magazine
"A remarkably absorbing novel of people enduring the unendurables of war with grace, toughness, and undying love." — Chang-rae Lee
An emotionally riveting debut novel about war, family, and forbidden love—the unforgettable saga of two ill-fated lovers in Korea and the heartbreaking choices they're forced to make in the years surrounding the civil war that still haunts us today.
When the communist-backed army from the north invades her home, sixteen-year-old Haemi Lee, along with her widowed mother and ailing brother, is forced to flee to a refugee camp along the coast. For a few hours each night, she escapes her family's makeshift home and tragic circumstances with her childhood friend, Kyunghwan.
Focused on finishing school, Kyunghwan doesn't realize his older and wealthier cousin, Jisoo, has his sights set on the beautiful and spirited Haemi—and is determined to marry her before joining the fight. But as Haemi becomes a wife, then a mother, her decision to forsake the boy she always loved for the security of her family sets off a dramatic saga that will have profound effects for generations to come.
Richly told and deeply moving, If You Leave Me is a stunning portrait of war and refugee life, a passionate and timeless romance, and a heartrending exploration of one woman's longing for autonomy in a rapidly changing world.
Social Media
Please use the hashtag #ifyouleaveme, and tag @williammorrowbooks, @crystalhanak, and @tlcbooktours on Instagram, and @wmmorrowbooks, @crystalhanak, and @tlcbooktours on Twitter.

Purchase Links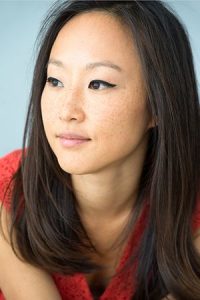 About Crystal Hana Kim
Crystal Hana Kim holds an MFA from Columbia University and is a contributing editor for Apogee Journal. She has received numerous awards, including PEN America's Story Prize for Emerging Writers, along with fellowships and support from the Bread Loaf Writers' Conference, and the Fine Arts Work Center in Provincetown, among others. Born and raised in New York, she currently lives in Chicago. If You Leave Me is her first novel.
Find out more about Crystal at her website, and connect with her on Instagram and Twitter.
Instagram Features
Tuesday, August 7th: Instagram: @anovelescape
Wednesday, August 8th: Instagram: @thepagesinbetween
Thursday, August 9th: Instagram: @Novelmombooks
Friday, August 10th: Instagram: @hollyslittlebookreviews
Saturday, August 11th: Instagram: @read.write.coffee
Sunday, August 12th: Instagram: @absorbedinpages
Monday, August 13th: Instagram: @brookesbooksandbrews