Join us for an Instagram tour and review tour for
Hardcover: 464 Pages
Publisher: Tyndale House Publishers, Inc. (October 9, 2018)
Miss Eleanor Sheffield is a talented evaluator of antiquities, trained to know the difference between a genuine artifact and a fraud. But with her father's passing and her uncle's decline into dementia, the family business is at risk. In the Victorian era, unmarried Eleanor cannot run Sheffield Brothers alone.
The death of a longtime client, Baron Lydney, offers an unexpected complication when Eleanor is appointed the temporary trustee of the baron's legendary collection. She must choose whether to donate the priceless treasures to a museum or allow them to pass to the baron's only living son, Harry–the man who broke Eleanor's heart.
Eleanor distrusts the baron's motives and her own ability to be unbiased regarding Harry's future. Harry claims to still love her and Eleanor yearns to believe him, but his mysterious comments and actions fuel her doubts. When she learns an Italian beauty accompanied him on his return to England, her lingering hope for a future with Harry dims.
With the threat of debtor's prison closing in, Eleanor knows that donating the baron's collection would win her favor among potential clients, saving Sheffield Brothers. But the more time she spends with Harry, the more her faith in him grows. Might Harry be worthy of his inheritance, and her heart, after all? As pressures mount and time runs out, Eleanor must decide whom she can trust–who in her life is false or true, brass or gold–and what is meant to be treasured.

Purchase Links
About Sandra Byrd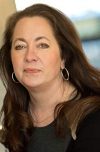 Sandra Byrd's first series of historically sound Gothic romances launched with the best-selling Mist of Midnight, which earned a coveted Editor's Choice Award from the Historical Novel Society. The second book, Bride of a Distant Isle, has been selected by Romantic Times as a Top Pick. The third in the series, A Lady in Disguise, was named by the American Library Association's Booklist as one of the Top Ten Inspirational Fiction Books of the year.
Her contemporary adult fiction debut, Let Them Eat Cake, was a Christy Award finalist, as was her first historical novel, To Die For: A Novel of Anne Boleyn. To Die For was also named a Library Journal Best Books of the Year Pick, as was The Secret Keeper: A Novel of Kateryn Parr.
Victorian Ladies, a new series, offers its first title, Lady of a Thousand Treasures, in 2018.
Connect with Sandra
Instagram tour stops
Monday, October 8th: @createexploreread
Tuesday, October 9th: @dropandgivemenerdy
Tuesday, October 9th: @theshybooks
Wednesday, October 10th: @theliterarybirds
Thursday, October 11th: @acozyreader
Friday, October 12th: @kim_reads
Friday, October 12th: @thecaffeinated_bibliophile
Sunday, October 14th: @girlsinbooks
Friday, October 26th: @mountain_reader_
Review tour stops
Monday, October 8th: Broken Teepee
Tuesday, October 9th: Write Read Life
Wednesday, October 10th: Book by Book
Thursday, October 11th: Diary of a Stay at Home Mom
Monday, October 15th: A Bookish Way of Life
Tuesday, October 16th: The Christian Fiction Girl
Wednesday, October 17th: From the TBR Pile
Thursday, October 18th: Laura's Reviews
Monday, October 22nd: @ladyofthelibrary
Monday, October 22nd: Blooming with Books
Tuesday, October 23rd: Amy's Book-et List
Wednesday, October 24th: @girlandherbooks
Thursday, October 25th: Splashes of Joy
Friday, October 26th: View from the Birdhouse
Monday, October 29th: What is that Book About
Tuesday, October 30th: Bookworm for Kids
Thursday, November 1st: Reader's Cozy Corner
Friday, November 2nd: The Lit Bitch
Sunday, November 18th: Reflections from my Bookshelf