_____________________________
From an exciting new voice in literary fiction, a transfixing story about an expatriate in southern China and his burgeoning relationship with a seamstress intent on inspiring dramatic political change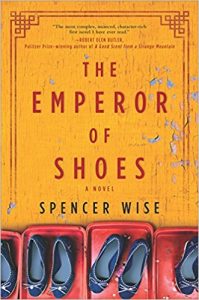 The Emperor of Shoes by Spencer Wise
Alex Cohen, a twenty-six-year-old Jewish Bostonian, is living in southern China, where his father runs their family-owned shoe factory. Alex reluctantly assumes the helm of the company, but as he explores the plant's vast floors and assembly lines, he comes to a grim realization: employees are exploited, regulatory systems are corrupt and Alex's own father is engaging in bribes to protect the bottom line.
When Alex meets a seamstress named Ivy, his sympathies begin to shift. She is an embedded organizer of a pro-democratic Chinese party, secretly sowing dissonance among her fellow laborers. Will Alex remain loyal to his father and his heritage? Or will the sparks of revolution ignite?
Deftly plotted and vibrantly drawn, The Emperor of Shoes is a timely meditation on idealism, ambition, father-son rivalry and cultural revolution, set against a vivid backdrop of social and technological change.
"There is a looking glass through which we'd usually rather not peer, one whose vista reveals the human, social and political costs paid overseas so that we can enjoy our low-cost lifestyle at home. When Spencer Wise, in his debut novel The Emperor of Shoes, directs our gaze, however, we see not only the dangers and exploitations of such a system, but also the hopes, dreams and delicate relationships that make it work and that must be risked if change is possible. Part love story, part father-son fable, part dark initiation, this powerful debut novel wonderfully brings into focus the ways we are all interconnected in a complex and global world."-Adam Johnson, Pulitzer Prize-winning author of The Orphan Master's Son
"Spencer Wise's The Emperor of Shoes is the most complex, nuanced, character-rich first novel I have ever read. It is utterly original in portraying a twenty-first century Jewish diaspora with an accompanying empathy for China's grassroots aspirations. Wise comes to us fully-flighted as a master stylist and a compelling storyteller."—Robert Olen Butler, Pulitzer Prize winning author of A Good Scent from a Strange Mountain

Purchase Links
_____________________________
A bride becomes a target in New York Times bestselling author B.J. Daniels's latest can't-miss suspense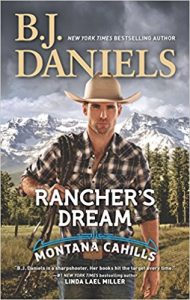 Rancher's Dream by B. J. Daniels
Tragedy sent Deidre "Drey" Hunter running from rancher Hawk Cahill and into the arms of a sleek businessman who promised her a new life. But dreams of Manhattan days and cosmopolitan nights shatter when he brings her back to an ultramodern paradise in her hometown of Gilt Edge—and vanishes on their wedding night.
Taunted by seclusion and silence, Drey starts to doubt everything…including her sanity. Only Hawk, the stubborn cowboy from her school days, believes the threats are real and that someone is ready to kill. But is he willing to forgive the past if it means ending her nightmare?

Purchase Links
_____________________________

Please fill out our super short registration form (<—click here) by July 31st for a chance to win a set of up to ten copies of one of these great books for your book club! We will randomly choose a winner at the end of the month. This contest is open to clubs in the US only (our apologies to friends in other countries). 
.
Best of luck!
We 
LOVE

 Book Clubs!