Join us for the Instagram tour and review tour for
Series: The Highland Grooms (Book 6)
Hardcover: 320 pages
Publisher: HQN; Original edition (October 30, 2018)
There's no matchmaking an unruly heart
When a prominent Scottish family faces a major scandal weeks before their daughter's wedding, they turn in desperation to the enigmatic fixer for the aristocracy, Nichol Bain. Remarkably skilled at making high-profile problems go away, Nichol understands the issue immediately. The family's raven-haired ward, Maura Darby, has caught the wandering eye—and rather untoward advances—of the groom.
Nichol assuredly escorts Maura toward his proposed solution: an aging bachelor for her to marry. But rebellious Maura has no interest in marrying a stranger, especially when her handsome traveling companion has captivated her so completely. Thankfully, Nichol loves a challenge, but traveling with the bold and brash Maura has him viewing her as far more than somebody's problem. Which raises a much bigger issue—how can he possibly elude disaster when the heart of the problem is his own?

Purchase Links
About Julia London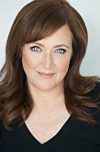 Julia London is the New York Times, USA Today, and Publisher's Weekly bestselling author of more than thirty novels, including the popular Secrets of Hadley Green series, the Cabot Sisters series and The Highland Grooms historical romance series. She also wrote the Pine River and the Lake Haven contemporary romance series. She is a six time finalist for the prestigious RITA Award for excellence in romantic fiction, and RT Bookclub award recipient for Best Historical Romance for Dangerous Gentleman. She lives in Austin, Texas.
Connect with Julia
Instagram Tour Stops
Monday, October, 29th: @novelgrounds
Tuesday, October 30th: @peacelovebooksxo
Wednesday, October 31st: @book_hangover88
Thursday, November 1st: @moonlight_rendezvous
Friday, November 2nd: @remarkablylisa
Saturday, November 3rd: @girlandherbooks
Saturday, November 3rd: @sarahandherbookshelves
Review Tour Stops
Monday, October 22nd: @radbabesread
Tuesday, October 23rd: From the TBR Pile
Wednesday, October 24th: Jathan & Heather
Thursday, October 25th: What is That Book About – Excerpt
Thursday, October 25th: OMGReads
Tuesday, October 30th: Becky on Books
Wednesday, October 31st: The Romance Dish – Review and Excerpt
Thursday, November 1st: Broken Teepee – Excerpt
Thursday, November 1st: Diary of a Stay at Home Mom
Friday, November 2nd: Romancing the Book – Review, Excerpt, and Author Q&A
Friday, November 2nd: @addicted_to_reading
Monday, November 5th: A Holland Reads
Monday, November 5th: @bookish_4_life
Wednesday, November 7th: Suey Library and @sueylibrary
Thursday, November 8th: @thebookishsisters
Thursday, November 29th: Book Fidelity
TBD: @_wordswithatwist