Join us for an Instagram tour for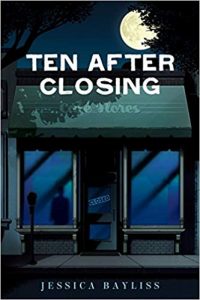 Hardcover: 328 Pages
Publisher: Sky Pony Press (September 25, 2018)
10PM: Closing time at Café Flores. The door should be locked, but it isn't, Scott Bradley and Winsome Sommervil are about to become hostages.
TEN MINUTES BEFORE CLOSING: Scott's girlfriend breaks up with him in the café's basement storeroom because he's late picking her up for the big end-of-the-year party. Now he can't go to the party, but he can't go home, either?not knowing his dad will still be in a drunken rage. Meanwhile, Winny wanted one night to let loose, away from her mother's crushing expectations. Instead, she's stranded at the café after her best friend ditches her in a misguided attempt at matchmaking.
TEN MINUTES AFTER CLOSING: The first gunshot is fired. Someone's dead. And if Winny, Scott, and the rest of the hostages don't come up with a plan soon, they may not live to see morning.
Told from both Winny and Scott's perspectives, and alternating between the events leading up to and following the hold-up, Ten After Closing is an explosive story of teens wrestling with their own challenges, thrown into circumstances that will test their very limits.

Purchase Links
About Jessica Bayliss
Jessica Bayliss is an author with a Ph.D. in clinical psychology who loves all things reading and writing. Her work crosses genres including romance, urban fantasy, and horror. Because one cannot live on writing alone, Jessica also spends a great deal of time with friends and family. She is a lover of all animals especially one very special Havanese and one extremely ornery cockatiel. She lives in Connecticut. Ten After Closing is her first young adult novel.
Connect with Jessica
INSTAGRAM TOUR:
Monday, September 3rd: @bookishconnisseur
Tuesday, September 4th: @dropandgivemenerdy
Tuesday, September 4th: @hotcocoareads
Wednesday, September 5th: @amberafterglowreads
Wednesday, September 5th: @ladyofthelibrary
Thursday, September 6th: @biblio-files
Friday, September 7th: @bookishmadeleine
Saturday, September 8th: @jennblogsbooks
Sunday, September 9th:@simplykelina