Please join us for the Instagram tour and review tour for
Paperback: 336 Pages
Publisher: MIRA; Original edition (November 1, 2018)
Everyone does bad things when no one is watching
Mercilessly bullied in high school, Ava knows she needs to put the past behind her and move on, but she can't—not until she's exacted precise, catastrophic revenge on the people who hurt her the most.
First, she watches Saanvi. Flawlessly chic and working hard at a top architectural firm, Saanvi has it all together on the surface. But everyone does bad things when they think no one is watching and Ava only wants what's fair—to destroy Saanvi's life the way her own was destroyed.
Next, she watches Cass. She's there as Cass tries on wedding dresses, she's there when Cass picks out a cake, she's there when Cass betrays her fiancé. She's the reason Cass's entire future comes crashing down.
Finally, Ava watches Mel. Mel was always the ringleader and if anyone has to pay, it's her. But one tiny slipup and Ava realizes the truth: Mel knows she's being watched, and she's ready to play Ava's games to the bitter end.

Purchase Links
About Anna Snoekstra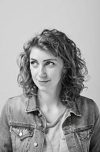 Anna Snoekstra was born in Canberra, Australia to two civil servants. At the age of seventeen she decided to avoid a full time job and a steady wage to move to Melbourne and become a writer. She studied Creative Writing and Cinema at The University of Melbourne, followed by Screenwriting at RMIT University.
After finishing university, Anna wrote for independent films and fringe theatre, and directed music videos. During this time, she worked as a christmas elf, cheesemonger, a waitress, a barista, a nanny, a receptionist, a cinema attendant and a film reviewer.
Connect with Anna
Instagram Tour:
Monday, October 29th: @_ebl_inc_
Monday, October 29th: @amberafterglowreads
Tuesday, October 30th: @ladyofthelibrary
Wednesday, October 31st: @bookishconnoisseur
Thursday, November 1st: @jessicamap
Thursday, November 1st: @dropandgivemenerdy
Friday, November 2nd: @girlsinbooks
Saturday, November 3rd: @bookclubwithbite
Sunday, November 4th: @bookishwinterwitch
Sunday, November 4th: @jennblogsbooks
Thursday, November 8th: @love_my_dane_sailor
Saturday, November 17th: @tlcbooktours Tour Replay
Review Tour:
Monday, October 29th: @scaredstraightreads
Tuesday, October 30th: From the TBR Pile
Wednesday, October 31st: Jathan & Heather – excerpt
Thursday, November 1st: Cheryl's Book Nook
Friday, November 2nd: Wining Wife
Monday, November 5th: @wherethereadergrows
Tuesday, November 6th: 100 Pages a Day… Stephanie's Book Reviews
Thursday, November 8th: Why Girls Are Weird
Friday, November 9th: Books & Bindings
Monday, November 12th: Midwest Ladies Who Lit
Tuesday, November 13th: Staircase Wit
Tuesday, November 13th: @thecityofdarkclockwork
Thursday, November 15th: Books a la Mode – excerpt
Friday, November 16th: @novelgossip
Monday, November 19th:@artbookscoffee
Tuesday, November 20th: @bibliotrix.lestrange
Friday, November 23rd: Kahakai Kitchen
Monday, November 26th: @mountain_reader
Wednesday, December 5th: A Chick Who Reads