About Pirata
• Paperback: 352 pages
• Publisher: Harper Perennial (June 26, 2018)
From 21-Jump Street writer and series creator Patrick Hasburgh, a part thriller, part family novel about an ex-pat American living and surfing in Mexico, the family he loves, and the murder he witnesses, in the vein of Don Winslow's The Dawn Patrol.
"It's rare to find a novel that's so harrowing, funny and touching at the same time, but Patrick Hasburgh somehow pulls it off. His surf-bum narrator is a new classic—think of Philip Marlowe, on a longboard."      —Carl Hiaasen, New York Times bestselling author of Razor Girl
"Fueled by equal parts humor and suspense, Pirata makes for a fast and satisfying read."   — Kem Nunn, author of National Book Award Finalist Tapping the Source
"Going straight at the stuff that scares you is good advice. I just didn't have the courage to do it…"—Nick Lutz
In a former life, Nick Lutz, sold cars in the Golden State. He had a wife and a young son, and they struggled along until Nick was shot in the head when a potential customer hijacked the car he was demonstrating. The incident sets off a bad-luck domino fall, and he loses an eye, his job, his family, and, eventually, his self-respect.
With nothing left, Nick heads for Mexico, where he sheds his former self among an eclectic group of expats and locals, who fondly name him "Pirata" on account of his eye patch. There on the beaches of Sabanita, Nick and his buddy Winsor drink, surf, and—most of all—escape, buoyed away from their pasts on south swells and Tecate. Nothing epic. That is until Winsor's girlfriend, Meagan, ends their abusive relationship and flees with her two boys to the safety and solace of Nick's beachside casita. A monsoon season fling of convenience turns into a torrid love affair as new loyalties and dark secrets are shaped into something like a family. But when the local policía struggle to identify a body that has washed up in the surf, Nick realizes his secrets—and sins—have caught up with him. And there are dangerous new surprises that have yet to roll in with the tide. . . .
A gifted storyteller, Hasburgh drops readers into the middle of a gripping, heartwarming, viscerally compelling page turner. At once tender and deadly hysterical, Pirata is a novel readers won't soon forget.
Social Media
Please use the hashtag #pirata, and tag @harperperennial and @tlcbooktours.

Purchase Links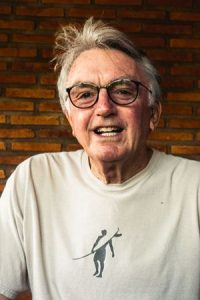 About Patrick Hasburgh
Patrick Hasburgh is a former TV and film writer, producer, and director best known for 21 Jump Street and Aspen Extreme. Patrick left show business in 2000 to pursue backcountry skiing, warm ocean surfing, and writing fiction. His first novel was a finalist for the Shamus Award; Pirata is his second novel.
Instagram Features
Monday, June 25th: Instagram: @novelgrounds
Wednesday, June 27th: Instagram: @brookesbooksandbrews
Thursday, June 28th: Instagram: @simplykelina
Friday, June 29th: Instagram: @mytimeoutshelf
Saturday, June 30th: Instagram: @hollyslittlebookreviews
Sunday, July 1st: Instagram: @the_need_to_read
Sunday, July 1st: Instagram: @shereadswithcats