_____________________________
.
The ones who push love away are often
the ones who need it most.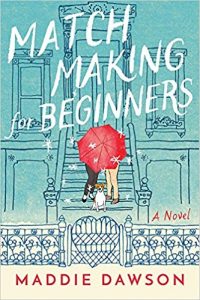 Matchmaking for Beginners by Maddie Dawson
Marnie MacGraw wants an ordinary life—a husband, kids, and a minivan in the suburbs. Now that she's marrying the man of her dreams, she's sure this is the life she'll get. Then Marnie meets Blix Holliday, her fiancé's irascible matchmaking great-aunt who's dying, and everything changes—just as Blix told her it would.
When her marriage ends after two miserable weeks, Marnie is understandably shocked. She's even more astonished to find that she's inherited Blix's Brooklyn brownstone along with all of Blix's unfinished "projects": the heartbroken, oddball friends and neighbors running from happiness. Marnie doesn't believe she's anything special, but Blix somehow knew she was the perfect person to follow in her matchmaker footsteps.
And Blix was also right about some things Marnie must learn the hard way: love is hard to recognize, and the ones who push love away often are the ones who need it most.

Purchase Links
_____________________________
.
The first novel from Sarah Jessica Parker's new imprint, SJP for Hogarth, A Place for Us is a deeply moving and resonant story of love, identity and belonging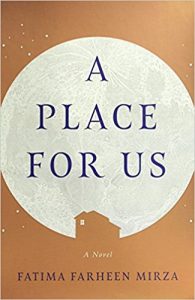 A Place for Us by Fatima Farheen Mirza
As an Indian wedding gathers a family back together, parents Rafiq and Layla must reckon with the choices their children have made.
There is Hadia: their headstrong, eldest daughter, whose marriage is a match of love and not tradition. Huda, the middle child, determined to follow in her sister's footsteps. And lastly, their estranged son, Amar, who returns to the family fold for the first time in three years to take his place as brother of the bride.
What secrets and betrayals have caused this close-knit family to fracture? Can Amar find his way back to the people who know and love him best?
A Place for Us takes us back to the beginning of this family's life: from the bonds that bring them together, to the differences that pull them apart. All the joy and struggle of family life is here, from Rafiq and Layla's own arrival in America from India, to the years in which their children — each in their own way — tread between two cultures, seeking to find their place in the world, as well as a path home.
A Place for Us is a book for our times: an astonishingly tender-hearted novel of identity and belonging, and a resonant portrait of what it means to be an American family today. It announces Fatima Farheen Mirza as a major new literary talent.
"A Place for Us is a triumph and an inspiration. I wish everyone would read this novel. A chronicle of the shattered expectations and irreconcilable desires within an American-Muslim family, A Place for Us hums with a deep faith in an unknown future, reminding its readers that when we are lost, love gives us a map home."— KAREN RUSSELL, author of Swamplandia!
"A Place for Us is a radiantly envisioned, beautifully achieved epic about nearly everything that matters: love, family, faith, freedom, betrayal, contrition, absolution. Fatima Farheen Mirza is a magnificent new voice." — ANTHONY MARRA, author of A Constellation of Vital Phenomena

Purchase Links
_____________________________
.
From the New York Times bestselling author of The Wedding Dress comes a story of long-lost love and its redemption in future generations.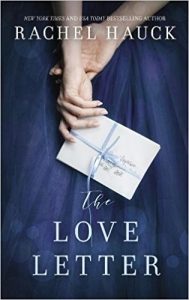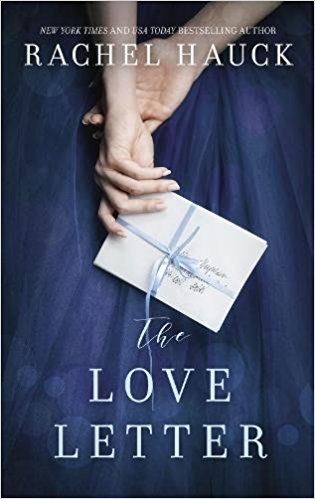 The Love Letter by Rachel Hauck
Romance has never been actress Chloe Daschle's forte—in life or on screen. But everyone knows who to call for a convincing death scene . . . and it might be killing her career.
When Chloe is given a peek at the script for an epic love story, she decides to take her destiny into her own hands and request an audition for the lead female role, Esther Kingsley. The compelling tale, inspired by family lore and a one-page letter from the colonial ancestor of scriptwriter Jesse Gates, just might break her out of this career-crippling rut. Jesse would rather write about romance than live through it after his past relationship ended in disaster. But once on-set together, the chemistry between Jesse and his leading lady is hard to deny.
Centuries earlier, in the heart of the Revolutionary War, Hamilton Lightfoot and Esther Longfellow wrote their saga off the silver screen. Esther's Loyalist father opposes any relationship with Hamilton, but Esther must face her beloved father's disapproval and the dangers of war in order to convince Hamilton of their future together. Hamilton has loved Esther for years, and on the eve of battle pens the love letter she's always wanted—something straight from the heart.
Set in stunning upcountry South Carolina, The Love Letter is a beautifully-crafted story of the courage it takes to face down fear and chase after love, even in the darkest of times. And just maybe, all these generations later, love can come home in a way not even Hollywood could imagine.

Purchase Links
_____________________________
.
This bad-ass band of sisters plays for keeps.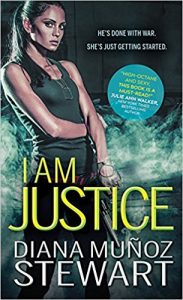 I Am Justice by Diana Munoz Stewart
She's ready to start a war
Justice Parish takes down bad guys. Rescued from the streets by the world renowned Parish family, she joined their covert sisterhood of vigilante assassins. Her next target: a sex-trafficking ring in the war-torn Middle East. She just needs to get close enough to take them down…
He just wants peace
Sandesh Ross left Special Forces to found a humanitarian group to aid war-torn countries. But saving the world isn't cheap. Enter Parish Industriesand limitless funding, with one catch–their hot, prickly 'PR specialist', Justice Parish.
Their chemistry is instant and off-the-charts. But when Justice is injured and her cover blown, Sandesh has to figure out if he can reconcile their missions. With danger dogging their every move, their white-hot passion can change the world–if it doesn't destroy them first.
"Fast-paced and edgy, high-octane and sexy, I Am Justice is a must-read!"–JULIE ANN WALKER, New York Times and USA Today bestselling author of the Black Knights Inc. series
"Diana Muñoz Stewart explodes onto the scene with I Am Justice. It's witty, dangerous, fun, and smoking hot–the perfect can't-put-it-down read if you love badass women, honorable men, scary bad guys, non-stop action and steam heat."–CINDY DEES, New York Times and USA Today bestselling author
"Hang on tight! This story features passion, betrayal, redemption, and plenty of kick-butt action!" RT BookReviews
"An intriguing premise, a cast of strong characters unwilling to back down, and black-hearted, deserve-to-die villains make this a winning start to an exciting new series."  BookPage Top Pick

Purchase Links
_____________________________

Please fill out our super short registration form (<—click here) by June 30th for a chance to win a set of up to ten copies of one of these great books for your book club! We will randomly choose a winner at the end of the month. This contest is open to clubs in the US only (our apologies to friends in other countries). 
.
Best of luck!
We 
LOVE

 Book Clubs!