_____________________________
Book Clubs will love this Regency Romance!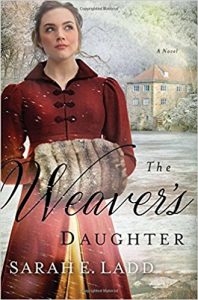 The Weaver's Daughter by Sarah E. Ladd
Kate's loyalties bind her to the past. Henry's loyalties compel him to strive for a better future. In a landscape torn between tradition and vision, can two souls find the strength to overcome their preconceptions?
Loyalty has been at the heart of the Dearborne family for as long as Kate can remember, but a war is brewing in their small village, one that has the power to rip families asunder — including her own. As misguided actions are brought to light, she learns how deep her father's pride and bitterness run, and she begins to wonder if her loyalty is well-placed.
Henry Stockton, heir to the Stockton fortune, returns home from three years at war hoping to find a refuge from his haunting memories. Determined to bury the past, he embraces his grandfather's goals to modernize his family's wool mill, regardless of the grumblings from the local weavers. When tragedy strikes shortly after his arrival, Henry must sort out the truth from suspicion if he is to protect his family's livelihood and legacy.
Henry has been warned about the Dearborne family. Kate, too, has been advised to stay far away from the Stocktons, but chance meetings continue to bring her to Henry's side, blurring the jagged lines between loyalty, justice, and truth. Kate ultimately finds herself with the powerful decision that will forever affect her village's future. As unlikely adversaries, Henry and Kate must come together to find a way to create peace for their families, and their village, and their souls – even if it means risking their hearts in the process.
'Ladd continues to write refreshing Regency romance with a spotlight on the working-class countryside life as opposed to the ballrooms and bustle of London. . . the Romeo-and-Juliet-esque romance between Kate and Henry is perfectly paced and dimensional. . .' (RT Book Reviews, 4 1/2 stars, TOP PICK)

Purchase Links
_____________________________
 A heart-wrenching clash between two American cultures: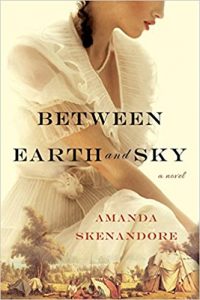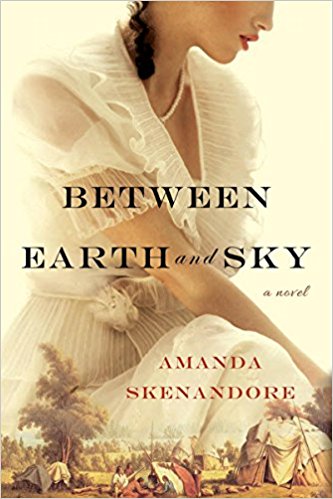 Between Earth and Sky by Amanda Skenandore
In Amanda Skenandore's provocative and profoundly moving debut, set in the tragic intersection between white and Native American culture, a young girl learns about friendship, betrayal, and the sacrifices made in the name of belonging.
On a quiet Philadelphia morning in 1906, a newspaper headline catapults Alma Mitchell back to her past. A federal agent is dead, and the murder suspect is Alma's childhood friend, Harry Muskrat. Harry—or Asku, as Alma knew him—was the most promising student at the "savage-taming" boarding school run by her father, where Alma was the only white pupil. Created in the wake of the Indian Wars, the Stover School was intended to assimilate the children of neighboring reservations. Instead, it robbed them of everything they'd known—language, customs, even their names—and left a heartbreaking legacy in its wake.
The bright, courageous boy Alma knew could never have murdered anyone. But she barely recognizes the man Asku has become, cold and embittered at being an outcast in the white world and a ghost in his own. Her lawyer husband, Stewart, reluctantly agrees to help defend Asku for Alma's sake. To do so, Alma must revisit the painful secrets she has kept hidden from everyone—especially Stewart.
Told in compelling narratives that alternate between Alma's childhood and her present life, Between Earth and Sky is a haunting and complex story of love and loss, as a quest for justice becomes a journey toward understanding and, ultimately, atonement.
"Gripping and beautifully written, Between Earth and Sky tugs at the heart with its dynamic heroine and unique cast of characters. Though this novel brings alive two historical American eras and settings, the story is achingly modern, universal and important."–Karen Harper, New York Times bestselling author of The It Girls
 
"A masterfully written novel about the heart-wrenching clash of two American cultures . . . a fresh and astonishing debut." –V.S. Alexander, author of The Magdalen Girls and The Taster
 
"A sweeping tale of courage, friendship, and love, Between Earth and Sky held me spellbound. This engrossing novel transports the reader to frontier America, amid the tensions between the White Man, the Natives, and those who longed to bridge the gap in understanding and compassion. Skenandore doesn't miss a beat—her elegant prose sings, Alma and Harry's story mesmerizes, and the evocative setting feels all too real. I adored this book!"–Heather Webb, author of Last Christmas in Paris: A Novel of WWI

Purchase Links
_____________________________
A searing portrait of suburbia, friendship, and family: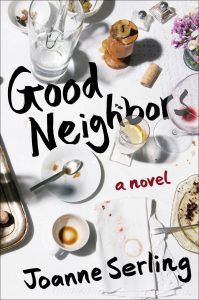 Good Neighbors by Joanne Serling
In an idyllic suburb, four young families quickly form a neighborhood clique, their friendships based on little more than the ages of their children and a shared sense of camaraderie. When one of the couples, Paige and Gene Edwards, adopt a four-year-old girl from Russia, the group's loyalty and morality is soon called into question. Are the Edwards unkind to their new daughter? Or is she a difficult child with hidden destructive tendencies?
As the seams of the group friendship slowly unravel, neighbor Nicole Westerhof finds herself drawn further into the life of the adopted girl, forcing Nicole to re-examine the deceptive nature of her own family ties, and her complicity in the events unfolding around her.
"I haven't been captivated by a story like this in so long. The tension, the complexity, the obsession over status; how one hopes to be seen by others versus how one fears one is seen…GOOD NEIGHBORS is a stunning, shocking, entertaining, and thought-provoking look at humanity. I want everyone to read this book."? Julia Fierro, author of The Gypsy Moth Mother and Cutting Teeth
"Riveting…GOOD NEIGHBORS exposes the dark underbelly of seemingly perfect families and friendships in this compulsively paced suburban thriller."? Bethany Ball, author of What To Do About The Solomons

Purchase Links
_____________________________
There's no place to fall in love like the place you left your heart.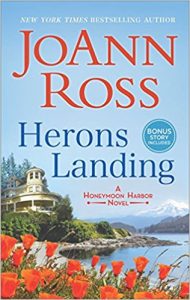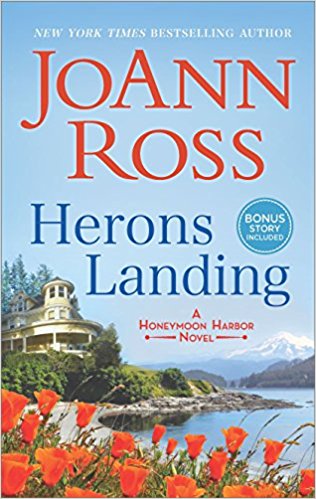 Herons Landing: A Small-Town Romance by JoAnn Ross
Welcome to Honeymoon Harbor, the brand-new, long-awaited series by beloved New York Times bestselling author JoAnn Ross, where unforgettable characters come face-to-face with the kind of love that grabs your heart and never lets go.
Working as a Las Vegas concierge, Brianna Mannion is an expert at making other people's wishes come true. It's satisfying work, but a visit home to scenic Honeymoon Harbor turns into a permanent stay when she's reminded of everything she's missing: the idyllic small-town charm; the old Victorian house she'd always coveted; and Seth Harper, her best friend's widower and the neighborhood boy she once crushed on—hard. After years spent serving others, maybe Brianna's finally ready to chase dreams of her own.
Since losing his wife, Seth has kept busy running the Harper family's renovation business and flying way under the social radar. But when Brianna hires him to convert her aging dream home into a romantic B and B, working together presents a heart-stopping temptation Seth never saw coming. With guilt and grief his only companions for so long, he'll have to step out of the past long enough to recognize the beautiful life Brianna and he could build together.

Purchase Links
_____________________________

Please fill out our super short registration form (<—click here) by May 31st for a chance to win a set of up to ten copies of one of these great books for your book club! We will randomly choose a winner at the end of the month. This contest is open to clubs in the US only (our apologies to friends in other countries). 
.
Best of luck!
We 
LOVE

 Book Clubs!