_____________________________
Book Clubs will love this twisting mystery about a crime reporter's haunting past, including a father's betrayal and her brother's long ago disappearance.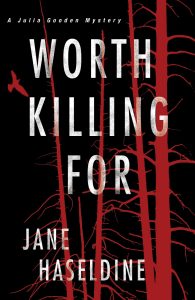 Worth Killing For by Jane Haseldine
Detroit newspaper reporter Julia Gooden returns in new mystery, where a brutal murder and a father's sudden return may provide the answers she's spent decades searching for . . . or lead deep into a fatal trap.
The past never really leaves us. Crime reporter Julia Gooden sees proof of this every day in her stories. A dark childhood, a negligent parent, early abandonment–any one of them can seal a person's fate as either a villain or victim. Julia, who experienced all three, seems to have beaten the odds, finding happiness raising her two sons and a blossoming relationship with detective Raymond Navarro.
But now, after three decades of absence, Julia's conman father has resurfaced to throw her life into turmoil again. Julia was only seven when Duke Gooden abruptly left. Barely a month later, her nine-year-old brother, Ben, disappeared. Ben was her hero and protector, and though the case is cold, Julia has never given up hope of finding him. Duke's return offers vital clues–but it also makes her a target of those who intend to see Duke punished for his many sins.
When Julia investigates the death of a city councilman's young nephew, she finds links to a string of other murders . . . and to a web of greed and kidnapping that stretches back decades. At long last, Julia may be able to discover what happened to Ben all those years ago, but only if she's willing to risk everything in her present.
Praise for the Julia Gooden Mystery Novels
Duplicity
"Haseldine uses her experience as a crime reporter to bring authenticity to this exciting and gritty tale." —Kirkus Reviews
"Julia is ferociously bold and persistent in this action-packed, plot-driven mystery." –Booklist
"Haseldine has a gift for atmosphere, setting, and suspense, and the many twists and turns will keep readers guessing." —Library Journal
The Last Time She Saw Him
"A sharp, breathless thriller. From the opening scene to the last, The Last Time She Saw Him, kept me flipping the pages. I loved it! Jane Haseldine is one to watch!" —Lisa Jackson, #1 New York Times bestselling author
"A ferocious thriller . . . no one will stop reading." —Booklist

Purchase Links
_____________________________
Southern fiction at its finest! Book clubs will love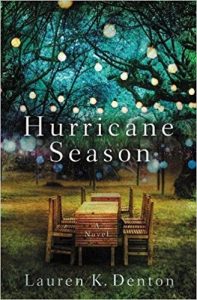 Hurricane Season by Lauren K. Denton
From the author of the USA Today bestseller The Hideaway comes another story of families and mending the past.
Betsy and Ty Franklin, owners of Franklin Dairy Farm in southern Alabama, have long since buried their desire for children of their own. While Ty manages their herd of dairy cows, Betsy busies herself with the farm's day-to-day operations and tries to forget her dream of motherhood. But when her free-spirited sister, Jenna, drops off her two young daughters for "just two weeks," Betsy's carefully constructed wall of self-protection begins to crumble.
As the two weeks stretch deeper into the Alabama summer, Betsy and Ty learn to navigate the new additions in their world—and revel in the laughter that now fills their home. Meanwhile, record temperatures promise to usher in the most active hurricane season in decades.
Attending an art retreat four hundred miles away, Jenna is fighting her own battles. She finally has time and energy to focus on her photography, a lifelong ambition. But she wonders how her rediscovered passion can fit in with the life she's made back home as a single mom.
When Hurricane Ingrid aims a steady eye at the Alabama coast, Jenna must make a decision that will change her family's future, even as Betsy and Ty try to protect their beloved farm and their hearts. Hurricane Season is the story of one family's unconventional journey to healing—and the relationships that must be mended along the way.

Purchase Links
_____________________________

Please fill out our super short registration form (<—click here) by April 30th for a chance to win a set of up to ten copies of one of these great books for your book club! We will randomly choose a winner at the end of the month. This contest is open to clubs in the US only (our apologies to friends in other countries). 
.
Best of luck!
We 
LOVE

 Book Clubs!