_____________________________
Book Clubs will love this hauntingly beautiful debut!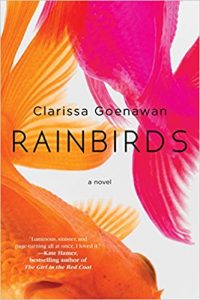 Rainbirds by Clarissa Goenawan
Set in an imagined town outside Tokyo, Clarissa Goenawan's dark, spellbinding literary debut follows a young man's path to self-discovery in the wake of his sister's murder. 
Ren Ishida has nearly completed his graduate degree at Keio University when he receives news of his sister's violent death. Keiko was stabbed one rainy night on her way home, and there are no leads. Ren heads to Akakawa to conclude his sister's affairs, failing to understand why she chose to abandon the family and Tokyo for this desolate place years ago.
But then Ren is offered Keiko's newly vacant teaching position at a prestigious local cram school and her bizarre former arrangement of free lodging at a wealthy politician's mansion in exchange for reading to the man's ailing wife. He accepts both, abandoning Tokyo and his crumbling relationship there in order to better understand his sister's life and what took place the night of her death.
As Ren comes to know the eccentric local figures, from the enigmatic politician who's boarding him to his fellow teachers and a rebellious, captivating young female student, he delves into his shared childhood with Keiko and what followed. Haunted in his dreams by a young girl who is desperately trying to tell him something, Ren realizes that Keiko Ishida kept many secrets, even from him.
A Bustle Most Anticipated Book of 2018
"Luminous, sinister, and page-turning all at once. I loved it."
—Kate Hamer, internationally bestselling author of The Girl in the Red Coat and The Doll Funeral
"A beautiful mystery setup with a complex, magical love story."
—Eka Kurniawan, award-winning author of Beauty Is a Wound and Vengeance Is Mine, All Others Pay Cash
"A beautiful, well-crafted story, Rainbirds is an exploration of grief, love and loss. Clarissa Goenawan has written a powerful debut novel that will leave readers craving more."—Hollie Overton, internationally bestselling author of Baby Doll and The Walls
"Like the imaginary town in Japan in which it takes place, Rainbirds possesses a charm that is at once cloistered, quiet, and mysterious. Carefully crafted and paced, the novel captivates with its reflective, dreamlike tone. A promising debut from Clarissa Goenawan."—Dee Lestari, award-winning singer-songwriter and author of the Supernova series
"Rainbirds is that rarest of debut novels—confident, transportive, and utterly enthralling. Clarissa Goenawan explores the mysteries of small-town Japan, drawing readers in with understated prose, then ensnaring with a subtle spell, exposing, grain by grain, the secrets behind a young woman's death."
—Barry Lancet, award-winning author of The Spy Across the Table and Japantown
"A hauntingly moving story of loss and alienation."—Jake Arnott, internationally bestselling author of The Long Firm and The House of Rumour

Purchase Links
_____________________________
 
Please fill out our super short registration form (<—click here) by March 31st for a chance to win a set of up to ten copies of one of these great books for your book club! We will randomly choose a winner at the end of the month. This contest is open to clubs in the US only (our apologies to friends in other countries). 
.
Best of luck!
We 
LOVE

 Book Clubs!