_____________________________
Book clubs will love how The Promise Between Us tackles themes of mental illness and how it impacts families.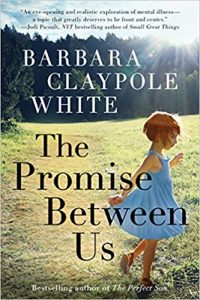 The Promise Between Us by Barbara Claypole White
From the bestselling author of The Perfect Son comes a hopeful tale of redemption, renewal, and the promise of love.
Metal artist Katie Mack is living a lie. Nine years ago she ran away from her family in Raleigh, North Carolina, consumed by the irrational fear that she would harm Maisie, her newborn daughter. Over time she's come to grips with the mental illness that nearly destroyed her, and now funnels her pain into her art. Despite longing for Maisie, Katie honors an agreement with the husband she left behind—to change her name and never return.
But when she and Maisie accidentally reunite, Katie can't ignore the familiarity of her child's compulsive behavior. Worse, Maisie worries obsessively about bad things happening to her pregnant stepmom. Katie has the power to help, but can she reconnect with the family she abandoned?
To protect Maisie, Katie must face the fears that drove her from home, accept the possibility of love, and risk exposing her heart-wrenching secret.

Purchase Links
_____________________________
"Coble's beautiful, emotional prose coupled with her keen sense of pacing, escalating danger, and very real characters place her firmly at the top of the suspense genre. I could not put this book down." –Allison Brennan, New York Times bestselling author of Shattered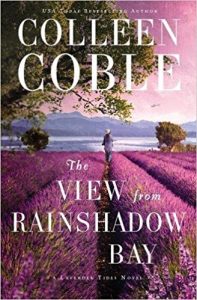 The View from Rainshadow Bay by Colleen Coble
After her husband, Jack, dies in a climbing incident, Shauna has only her five-year-old son and her helicopter charter business to live for. Every day is a struggle to make ends meet and she lives in constant fear of losing even more than she already has.
When her business partner is murdered, his final words convince Shauna that she's in danger too. But where can she turn? Zach Bannister was her husband's best friend and is the person she blames for his death. She's barely spoken to him since. But right now he seems her only hope for protecting her son.
Zach is only too happy to assuage his guilt over Jack's death by helping Shauna any way he can. But there are secrets involved dating back to Shauna's childhood that more than one person would prefer to stay hidden.
In The View from Rainshadow Bay, suspense, danger, and a longing to love again ignite amid the gorgeous lavender fields of Washington State.

Purchase Links
_____________________________

Please fill out our super short registration form (<—click here) by February 28th for a chance to win a set of up to ten copies of one of these great books for your book club! We will randomly choose a winner at the end of the month. This contest is open to clubs in the US only (our apologies to friends in other countries). 
.
Best of luck!
We 
LOVE

 Book Clubs!