We've rounded up some of the best book club choices of the year, and one lucky book club will win up to 10 copies of all three of these books!
_____________________________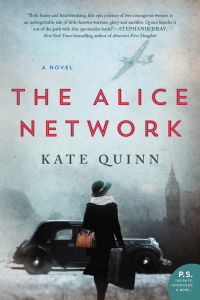 USA TODAY BESTSELLER
#1 GLOBE AND MAIL HISTORICAL FICTION BESTSELLER
Reese Witherspoon Book Club July Pick!
One of Amazon's Best Books of the Month!
One of Goodreads' Best Books of the Month!
A Summer Book Pick from Good Housekeeping, Parade, Library Journal, Goodreads, Liz and Lisa, and BookBub
In this enthralling new historical novel from national bestselling author Kate Quinn, two women—a female spy recruited to the real-life Alice Network in France during World War I and an unconventional American socialite searching for her cousin in 1947—are brought together in a mesmerizing story of courage and redemption.
1947. In the chaotic aftermath of World War II, American college girl Charlie St. Clair is pregnant, unmarried, and on the verge of being thrown out of her very proper family. She's also nursing a desperate hope that her beloved cousin Rose, who disappeared in Nazi-occupied France during the war, might still be alive. So when Charlie's parents banish her to Europe to have her "little problem" taken care of, Charlie breaks free and heads to London, determined to find out what happened to the cousin she loves like a sister.
1915. A year into the Great War, Eve Gardiner burns to join the fight against the Germans and unexpectedly gets her chance when she's recruited to work as a spy. Sent into enemy-occupied France, she's trained by the mesmerizing Lili, the "Queen of Spies", who manages a vast network of secret agents right under the enemy's nose.
Thirty years later, haunted by the betrayal that ultimately tore apart the Alice Network, Eve spends her days drunk and secluded in her crumbling London house. Until a young American barges in uttering a name Eve hasn't heard in decades, and launches them both on a mission to find the truth…no matter where it leads.
"Both funny and heartbreaking, this epic journey of two courageous women is an unforgettable tale of little-known wartime glory and sacrifice. Quinn knocks it out of the park with this spectacular book!"—Stephanie Dray, New York Times bestselling author of America's First Daughter

Purchase Links
_____________________________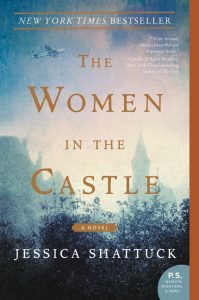 INSTANT NEW YORK TIMES BESTSELLER  •  FEATURING AN EXCLUSIVE NEW CHAPTER
GoodReads Choice Awards Semifinalist 
"Moving . . . a plot that surprises and devastates."—New York Times Book Review
"A masterful epic."—People magazine
"Mesmerizing . . . The Women in the Castle stands tall among the literature that reveals new truths about one of history's most tragic eras."—USA Today
Three women, haunted by the past and the secrets they hold
Set at the end of World War II, in a crumbling Bavarian castle that once played host to all of German high society, a powerful and propulsive story of three widows whose lives and fates become intertwined—an affecting, shocking, and ultimately redemptive novel from the author of the New York Times Notable Book The Hazards of Good Breeding.
Amid the ashes of Nazi Germany's defeat, Marianne von Lingenfels returns to the once-grand castle of her husband's ancestors, an imposing stone fortress now fallen into ruin following years of war. The widow of a resister murdered in the failed July 20, 1944, plot to assassinate Adolf Hitler, Marianne plans to uphold the promise she made to her husband's brave conspirators: to find and protect their wives, her fellow resistance widows.
First Marianne rescues six-year-old Martin, the son of her dearest childhood friend, from a Nazi reeducation home. Together, they make their way across the smoldering wreckage of their homeland to Berlin, where Martin's mother, the beautiful and naive Benita, has fallen into the hands of occupying Red Army soldiers. Then she locates Ania, another resister's wife, and her two boys, now refugees languishing in one of the many camps that house the millions displaced by the war.
As Marianne assembles this makeshift family from the ruins of her husband's resistance movement, she is certain their shared pain and circumstances will hold them together. But she quickly discovers that the black-and-white, highly principled world of her privileged past has become infinitely more complicated, filled with secrets and dark passions that threaten to tear them apart. Eventually, all three women must come to terms with the choices that have defined their lives before, during, and after the war—each with their own unique share of challenges.
Written with the devastating emotional power of The Nightingale, Sarah's Key, and The Light Between Oceans, Jessica Shattuck's evocative and utterly enthralling novel offers a fresh perspective on one of the most tumultuous periods in history. Combining piercing social insight and vivid historical atmosphere, The Women in the Castle is a dramatic yet nuanced portrait of war and its repercussions that explores what it means to survive, love, and, ultimately, to forgive in the wake of unimaginable hardship.

Purchase Links
_____________________________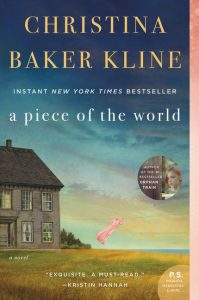 INSTANT NEW YORK TIMES BESTSELLER
"Exquisite. A must-read." –Kristin Hannah
This paperback edition includes a color reproduction of Andrew Wyeth's painting Christina's World, along with a Q&A with Bestselling Author Kristin Hannah and a bonus short story, "Stranded in Ice."
From the #1 New York Times bestselling author of the smash bestseller Orphan Train, a stunning and atmospheric novel of friendship, passion, and art, inspired by Andrew Wyeth's mysterious and iconic painting Christina's World.
"Later he told me that he'd been afraid to show me the painting. He thought I wouldn't like the way he portrayed me: dragging myself across the field, fingers clutching dirt, my legs twisted behind. The arid moonscape of wheatgrass and timothy. That dilapidated house in the distance, looming up like a secret that won't stay hidden."
To Christina Olson, the entire world was her family's remote farm in the small coastal town of Cushing, Maine. Born in the home her family had lived in for generations, and increasingly incapacitated by illness, Christina seemed destined for a small life. Instead, for more than twenty years, she was host and inspiration for the artist Andrew Wyeth, and became the subject of one of the best known American paintings of the twentieth century.
As she did in her beloved smash bestseller Orphan Train, Christina Baker Kline interweaves fact and fiction in a powerful novel that illuminates a little-known part of America's history. Bringing into focus the flesh-and-blood woman behind the portrait, she vividly imagines the life of a woman with a complicated relationship to her family and her past, and a special bond with one of our greatest modern artists.
Told in evocative and lucid prose, A Piece of the World is a story about the burdens and blessings of family history, and how artist and muse can come together to forge a new and timeless legacy.

Purchase Links
_____________________________
Please fill out our super short registration form (<—click here) by December 31st for a chance to win a set of up to ten copies of all three of these great books for your book club! We will randomly choose one winner at the end of the month. This contest is open to clubs in the US only (our apologies to friends in other countries). 
.
Best of luck!
We 
LOVE

 Book Clubs!