We've gathered up some sizzling reads for a sexy
Valentine's Day Blog Tour!
Each tour stop will feature a guest post from one of the fabulous authors listed below. Be sure to follow along!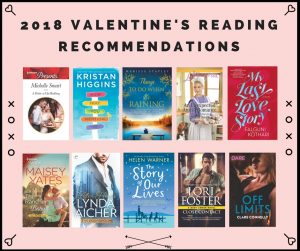 ___________________________________
.
Mass Market Paperback: 224 pages
Publisher: Harlequin Presents (January 16, 2018)
Hired by her enemy
Yet tempted to say "I do"…
Billionaire Andreas Samaras is nobody's fool. And his beautiful new employee, Carrie Rivers—an undercover journalist—is playing a dangerous game. He'll keep her at his command until he can expose her deception… But when her ruse is revealed, there's only one way to protect his spotless business reputation: blackmail innocent Carrie to the altar!

Purchase Links
___________________________________
Paperback: 416 pages
Publisher: HQN (December 26, 2017)
"The kind of book I enjoy the most—sparkling characters, fast-moving plot and laugh-out-loud dialogue. A winner!" —New York Times bestselling author Susan Elizabeth Phillips on If You Only Knew
New York Times bestselling author Kristan Higgins welcomes you home in this witty, emotionally charged novel about the complications of life, love and family
One step forward. Two steps back. The Tufts scholarship that put Nora Stuart on the path to becoming a Boston medical specialist was a step forward. Being hit by a car and then overhearing her boyfriend hit on another doctor when she thought she was dying? Two major steps back.
Injured in more ways than one, Nora feels her carefully built life cracking at the edges. There's only one place to land: home. But the tiny Maine community she left fifteen years ago doesn't necessarily want her. At every turn, someone holds the prodigal daughter of Scupper Island responsible for small-town drama and big-time disappointments.
With a tough islander mother who's always been distant, a wild-child sister in jail and a withdrawn teenage niece as eager to ditch the island as Nora once was, Nora has her work cut out for her if she's going to take what might be her last chance to mend the family. Balancing loss and opportunity, dark events from her past with hope for the future, Nora will discover that tackling old pain makes room for promise…and the chance to begin again.

Purchase Links
 ___________________________________
Paperback: 384 pages
Publisher: Graydon House (February 6, 2018)
When secrets tear love apart, can the truth mend it?
Mae Summers has it all: a loving fiancé, Peter, a job at the flourishing company he owns and a beautiful New York City apartment. But Mae's life shatters when she wakes up one morning to discover Peter gone—leaving only a cryptic note behind him—and the company in shambles, its investments founded on lies.
There's only one place for Mae to go: home to Alexandria Bay, the small tourist town in upstate New York where she was raised by her grandparents in the inn they own. And not all is right in Alex Bay, either: Mae finds her grandmother struggling with dementia, separated from Mae's grandfather thanks to a terrible secret she never meant to reveal.
She also finds Gabe, her childhood best friend who became the love of her young life—now a handsome if brooding adult, working through a private trauma that still haunts him.
A lifetime of secrets stands in the way of Mae and her family's happiness. Home may be where the heart is, but sometimes it takes equal parts love, forgiveness and will to mend that heart.

Purchase Links
 ___________________________________
Series: The Amish Bachelors
Mass Market Paperback: 224 pages
Publisher: Love Inspired (February 20, 2018)
New beginnings. New job. New love? Amish Bachelors are full of surprises…
After a broken engagement, Helen Zook is embracing her independence—starting with a new job working for carpenter Mark Bowman. Sparks fly as Helen immediately butts heads with her handsome yet gruff boss, whose complicated past makes him hesitant to plant roots in Bowmans Crossing. But Helen's eccentric aunt and a matchmaking basset hound have their own plans for Helen and Mark's future…

Purchase Links
 ___________________________________
Paperback: 304 pages
Publisher: Graydon House (January 23, 2018)
"At once heartbreaking, delightful, and completely unexpected. A must-read!" —Sonali Dev, award-winning author of The Bollywood Bride
"Promise me you'll learn to cuss, learn to love again. Live again. Promise me you won't give up on each other."
Simi Desai is thirty years old and her husband is dying of cancer. He has two last wishes in his final months: first, that she'll have his baby so that a piece of him lives on, and second, that she'll reconcile with her old flame, who just happens to be their mutual best friend. And so over the course of their last summer together, Simi's husband plans a series of big and small adventures for this unlikely trio, designed to help them say goodbye to each other and prove to Simi that it's okay to move on without him—and even find love again.
Beautiful and poignant, Falguni Kothari's My Last Love Story will pull your heartstrings as only unforgettable love stories can.

Purchase Links
 ___________________________________
The Rancher's Baby by Maisey Yates
Print Length: 224 pages
Publisher: Harlequin Desire (January 1, 2018)
She's having her best friend's baby… Only from New York Timesbestselling author Maisey Yates!
When a torrid, possibly dangerous scandal comes to Royal, Texas, Selena Jacobs is nearly caught in the middle. Until her best friend Knox McCoy ensures her safety—by moving in! Selena has loved Knox for years, but she's never had the courage to tell him. Now the sparks she's tried to smother burn out of control…and leave her pregnant. But with the pain in his past, will Knox finally take a chance on love…with her?

Purchase Links
___________________________________
Genre: Romance
Imprint: Carina
On-sale date: January 22, 2018
The Boardroom. After hours, it's where Bay Area moguls indulge their fantasies. Ties are loosened. Inhibitions, too.
Assistant Avery Fast watched from a distance, mouth gaping, blood roaring wildly in her ears as she stared at the naked woman on the table before her. At executive Carson Taggert ordering a man to pleasure her. It made her feel guilty, embarrassed…and hot.
Carson watched and waited. Waited for Avery to notice him in the Boardroom. Waited for her to like what she saw. Waited to see what she'd do the next day. And the next. He couldn't let her go—not when she'd seen what goes on in the Boardroom. He couldn't stop thinking about the desire in her eyes, the flush on her cheeks, her obvious arousal.
Getting her to join was easy. But now Carson wants Avery all to himself.

Purchase Links
 ___________________________________
Paperback: 416 pages
Publisher: Graydon House (February 6, 2018)
They think nothing can tear their bond apart, until a long-buried secret threatens to destroy everything.
Every year they have met up for a vacation, but their time away is much more than just a bit of fun. Over time, it has become a lifesaver, as each of them struggles with life's triumphs and tragedies.
Sophie, Emily, Amy and Melissa have been best friends since they were girls. They have seen each other through everything—from Sophie's private fear that she doesn't actually want to be a mother despite having two kids, to Amy's perfect-on-the-outside marriage that starts to reveal troubling warning signs, to Melissa's spiraling alcoholism, to questions that are suddenly bubbling up around the paternity of Emily's son. But could a lie that spans just as long as their friendship be the thing that tears them apart?

Purchase Links
 ___________________________________
Close Contact by Lori Foster
Series: Body Armor
Mass Market Paperback: 400 pages
Publisher: HQN (November 28, 2017)
There's no resisting a desire like this…
MMA fighter Miles Dartman's casual arrangement with personal shopper Maxi Nevar would be many men's fantasy. She seeks him out, they have mindblowing sex, she leaves. Rinse, repeat. Yet lately, Miles wants more. And when Maxi requests his services via the Body Armor security agency, he's ready to finally break through her defenses—and protect her day and night.
Receiving a large inheritance has brought chaos and uncertainty into Maxi's life. Her ex has resurfaced, along with lots of former "friends," and someone is making mysterious threats. Then there's Miles, who doesn't ask for anything…except her trust. Pleasure is easy. Now Maxi has to give her heart as well as her body…or risk losing a man who could be everything she needs.

Purchase Links
___________________________________
Print Length: 182 pages
Publisher: Harlequin Dare (February 1, 2018)
"I want to taste you tonight."
With chemistry this hot, it's worth getting burned… 
Billionaire Jack Grant is totally off-limits to Gemma Picton. He's wild, deliciously dangerous…and her boss. When working late turns X-rated, it's better than her wildest imaginings—and Gemma's imagined a lot! But Jack has major emotional baggage, so when Gemma starts wanting to heal his heart as well as enjoy his body, she knows she's in big trouble…

Purchase Links
___________________________________
Valentine's Day Blog Tour TOUR STOPS:
Monday, January 29th: What is That Book About – Michelle Smart guest post
Wednesday, January 31st: Reading Reality – Kristan Higgans guest post
Monday, February 5th: Books & Spoons – Patricia Davids guest post
Monday, February 5th:Books & Spoons – An Unexpected Amish Romance review
Wednesday, February 7th: Satisfaction for Insatiable Readers – Falguni Kothari guest post
Friday, February 9th: The Sassy Bookster – Maisey Yates guest post
Friday, February 9th: Smexy Books – Lynda Aicher guest post
Monday, February 12th: Book Reviews and More by Kathy – Helen Warner guest post
Monday, February 12th: Books a la Mode – Marissa Stapley guest post
Tuesday, February 13th: Crystal Blogs Books – Lori Foster guest post
Wednesday, February 14th: Romancing the Readers – Clare Connelly guest post