_____________________________
Engrossing and twisty! Book clubs will love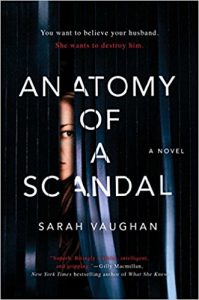 Anatomy of a Scandal by Sarah Vaughan
Hardcover: 400 pages
Publisher: Atria/Emily Bestler Books (January 23, 2018)
"A strong choice for book clubs. Former political correspondent Vaughan makes an impressive debut with this savvy, propulsive courtroom drama." —Kirkus Reviews (starred review)
An astonishingly incisive and suspenseful novel about a scandal amongst Britain's privileged elite and the women caught up in its wake.
Sophie's husband James is a loving father, a handsome man, a charismatic and successful public figure. And yet he stands accused of a terrible crime. Sophie is convinced he is innocent and desperate to protect her precious family from the lies that threaten to rip them apart.
Kate is the lawyer hired to prosecute the case: an experienced professional who knows that the law is all about winning the argument. And yet Kate seeks the truth at all times. She is certain James is guilty and is determined he will pay for his crimes.
Who is right about James? Sophie or Kate? And is either of them informed by anything more than instinct and personal experience? Despite her privileged upbringing, Sophie is well aware that her beautiful life is not inviolable. She has known it since she and James were first lovers, at Oxford, and she witnessed how easily pleasure could tip into tragedy.
Most people would prefer not to try to understand what passes between a man and a woman when they are alone: alone in bed, alone in an embrace, alone in an elevator… Or alone in the moonlit courtyard of an Oxford college, where a girl once stood before a boy, heart pounding with excitement, then fear. Sophie never understood why her tutorial partner Holly left Oxford so abruptly. What would she think, if she knew the truth?
"Vaughan offers gripping insight into a political scandal's hidden machinations and the tension between justice and privilege…Absorbing, polished."—Booklist(starred review)
"Skillfully interweaving the story of the unfolding scandal, Vaughan gradually reveals just how shockingly high the stakes are…Sinewy…engrossing, twist-filled." —Publishers Weekly (starred review)
For more information on Anatomy of a Scandal, please check out the website Anatomyofascandal.com.

Purchase Links
_____________________________
The inspiring and irresistible true story of the women who broke barriers and finish-line ribbons in pursuit of Olympic Gold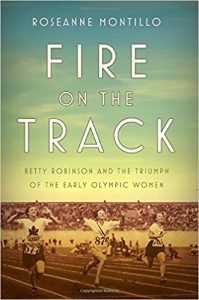 Fire on the Track: Betty Robinson and the Triumph of the Early Olympic Women by Roseanne Montillo
Hardcover: 304 pages
Publisher: Crown (October 17, 2017)
When Betty Robinson assumed the starting position at the 1928 Olympic Games in Amsterdam, she was participating in what was only her fourth-ever organized track meet. She crossed the finish line as a gold medalist and the fastest woman in the world. This improbable athletic phenom was an ordinary high school student, discovered running for a train in rural Illinois mere months before her Olympic debut. Amsterdam made her a star.
But at the top of her game, her career (and life) almost came to a tragic end when a plane she and her cousin were piloting crashed. So dire was Betty's condition that she was taken to the local morgue; only upon the undertaker's inspection was it determined she was still breathing. Betty, once a natural runner who always coasted to victory, soon found herself fighting to walk.
While Betty was recovering, the other women of Track and Field were given the chance to shine in the Los Angeles Games, building on Betty's pioneering role as the first female Olympic champion in the sport. These athletes became more visible and more accepted, as stars like Babe Didrikson and Stella Walsh showed the world what women could do. And—miraculously—through grit and countless hours of training, Betty earned her way onto the 1936 Olympic team, again locking her sights on gold as she and her American teammates went up against the German favorites in Hitler's Berlin.
Told in vivid detail with novelistic flair, Fire on the Track is an unforgettable portrait of these trailblazers in action.

Purchase Links
_____________________________
Outstanding Debut Novel from an Author to Watch!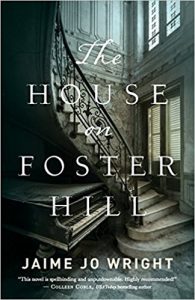 The House on Foster Hill by Jaime Jo Wright
Paperback: 368 pages
Publisher: Bethany House Publishers (November 21, 2017)
Kaine Prescott is no stranger to death. When her husband died two years ago, her pleas for further investigation into his suspicious death fell on deaf ears. In desperate need of a fresh start, Kaine purchases an old house sight unseen in her grandfather's Wisconsin hometown. But one look at the eerie, abandoned house immediately leaves her questioning her rash decision. And when the house's dark history comes back with a vengeance, Kaine is forced to face the terrifying realization she has nowhere left to hide.
A century earlier, the house on Foster Hill holds nothing but painful memories for Ivy Thorpe. When an unidentified woman is found dead on the property, Ivy is compelled to discover her identity. Ivy's search leads her into dangerous waters and, even as she works together with a man from her past, can she unravel the mystery before any other lives–including her own–are lost?

Purchase Links
_____________________________
Don't miss Heather Hayford's print debut and the first book in the Williamette Valley Romance series!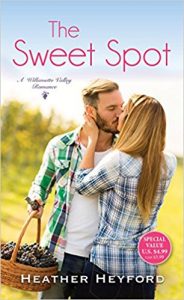 The Sweet Spot by Heather Hayford
Series: A Willamette Valley Romance (Book 1)
Mass Market Paperback
Publisher: Lyrical Press (February 27, 2018)
A summer friendship ripens into something more . . . 
Welcome to Ribbon Ridge, Oregon, a small town steeped in history and graced with verdant valleys. In the first book of Heather Heyford's newest series, a family-run vineyard is the perfect place to find yourself . . . and lose your heart. 
 
The Vineyards at Ribbon Ridge is about as far away from the big city as Philadelphia music teacher Jamie Martel can get, and it's the perfect place for her to forget her troubles for a while. But can a dream vacation turn into her real life? When she is offered a summer job at the lush Oregon vineyard, she decides it is time to find out.
Hank Friestatt took over The Vineyards when his parents passed. Committed to keeping their legacy alive, he has poured his heart and soul into the family business. With things back on track, he's torn between tradition and a tempting opportunity to cut and run. Yet something about down-to-earth Jamie is making him question his plans. As the grapes are harvested and the leaves start to turn, Hank vows to keep the promises he made. Saying goodbye to Jamie, however, may be a lot harder than he thought . . .

Purchase Links
_____________________________
Now a USA Today and Amazon Charts Bestseller!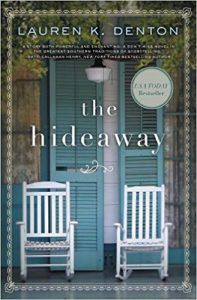 The Hideaway by Lauren K. Denton
Paperback: 352 pages
Publisher: Thomas Nelson (April 11, 2017)
"A story both powerful and enchanting: a don't-miss novel in the greatest southern traditions of storytelling." —Patti Callahan Henry, New York Timesbestselling author
When her grandmother's will wrenches Sara back home, she learns more about Margaret Van Buren in the wake of her death than she ever knew in life.
After her last remaining family member dies, Sara Jenkins goes home to The Hideaway, her grandmother Mags's ramshackle B&B in Sweet Bay, Alabama. She intends to quickly tie up loose ends then return to her busy life and thriving antique shop in New Orleans. Instead, she learns Mags has willed The Hideaway to her and charged her with renovating it—no small task considering her grandmother's best friends, a motley crew of senior citizens, still live there.
Rather than hurrying back to New Orleans, Sara stays in Sweet Bay and begins the biggest house-rehabbing project of her career. Amid drywall dust, old memories, and a charming contractor, she discovers that slipping back into life at The Hideaway is easier than she expected.
Then she discovers a box Mags left in the attic with clues to a life Sara never imagined for her grandmother. With help from Mags's friends, Sara begins to piece together the mysterious life of bravery, passion, and choices that changed her grandmother's destiny in both marvelous and devastating ways.
When an opportunistic land developer threatens to seize The Hideaway, Sara is forced to make a choice—stay in Sweet Bay and fight for the house and the people she's grown to love or leave again and return to her successful but solitary life in New Orleans.
"Two endearing heroines and their poignant storylines of love lost and found make this the perfect book for an afternoon on the back porch with a glass of sweet tea." —Karen White, New York Times bestselling author

Purchase Links
_____________________________
Please fill out our super short registration form (<—click here) by December 31st for a chance to win a set of up to ten copies of one of these great books for your book club! We will randomly choose a winner at the end of the month. This contest is open to clubs in the US only (our apologies to friends in other countries). 
.
Best of luck!
We 
LOVE

 Book Clubs!