We've gathered up some wonderful winter holiday traditions, recipes, and books to warm your heart over the holidays!
Each tour stop will feature a guest post from one of the fabulous authors listed below, plus a fun Rafflecopter giveaway.
Be sure to follow along!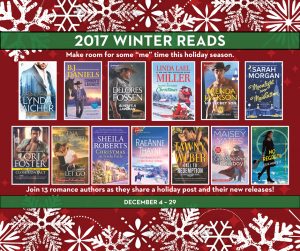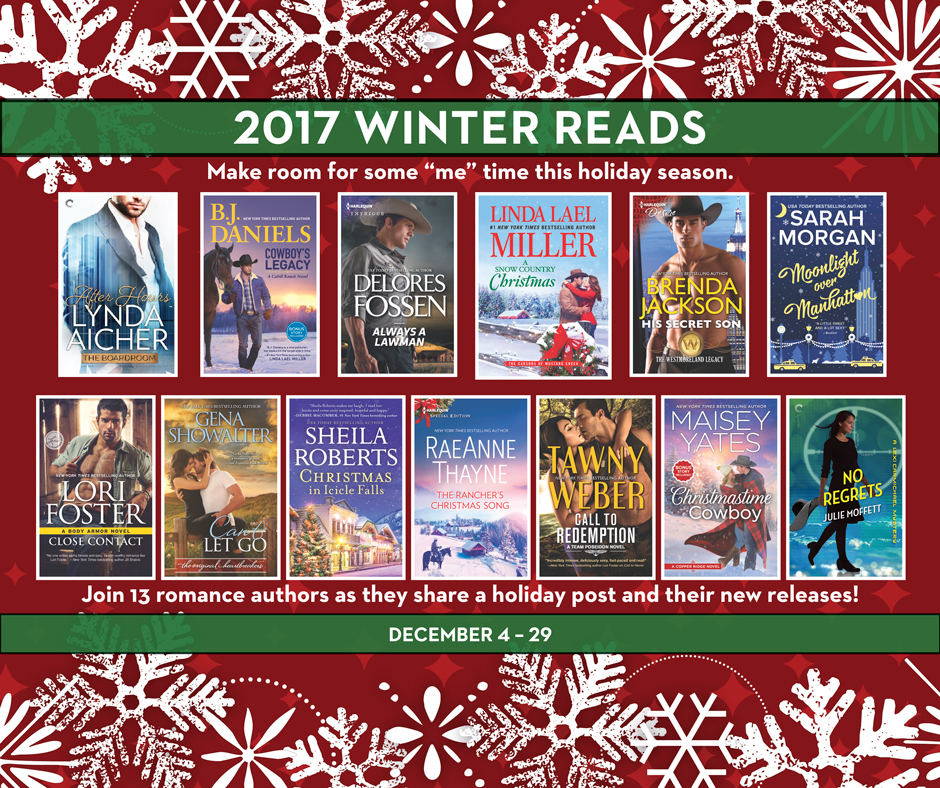 __________________________________
Print Length: 256 pages
Publisher: HQN Books (October 1, 2017)
Publication Date: September 26, 2017
It's a Christmas affair to remember as a Hollywood mogul discovers his inner cowboy—and the woman of his dreams—amid the rugged beauty of Wyoming. 
Raine McCall would take snow-covered mountains over a star-studded premiere any day. But when hotshot movie executive Mick Branson arranges dinner on Christmas Eve to discuss a work opportunity, she's intrigued—by the offer and the man. She's a no-makeup, no-frills single mom, who's happy with her quiet life. Sharing chili cheeseburgers and sizzling kisses with Mick is sure heating up her holiday, but country girl and power player don't mix…
It's not just work that's brought Mick back to Mustang Creek. Since he first visited to oversee a documentary, free-spirited graphic designer Raine has been in his head. Her approach to life is as unconventional as her quirky holiday ornaments. Their attraction is undeniable—and so are their differences. Putting down roots in the Wild West wasn't in the script. But there are some Christmas gifts you can't walk away from, even when they turn your whole world upside down…

Purchase Links
__________________________________
Print Length: 384 pages
Publisher: HQN Books (November 1, 2017)
Publication Date: October 31, 2017
The Poseidon team are hard-bodied, fiercely competitive Navy SEALs. But when a sensitive mission goes disastrously wrong, three of the team's finest will have to trust their hearts and instincts to uncover the truth… 
No strings. No questions. Just pleasure. For a few blissful days, Lieutenant Commander Nic Savino is enjoying a wild fling with the sexiest stranger he's ever laid eyes—or any other body part—on. It's almost enough to make the stalwart SEAL let down his guard for once. Until he learns that assistant US attorney Darby Raye—his Darby—is heading an investigation designed to destroy him…and Poseidon.
The gorgeous eyes that Darby spent her nights gazing into are now glaring at her across a courtroom. This case could build her career, but if Nic's not a traitor, then he's being framed by forces powerful enough to eliminate every obstacle in their way. And the tentative trust she and Nic are rebuilding—as well as their very lives—could become collateral damage…

Purchase Links
__________________________________
Print Length: 272 pages
Publisher: Harlequin Intrigue (December 1, 2017)
Publication Date: December 1, 2017
A sheriff's heart-wrenching past threatens to destroy his future in USA TODAYbestselling author Delores Fossen's brand-new Blue River Ranch miniseries…
Ten years ago, Sheriff Gabriel Beckett helped convict the man who murdered his parents in a shocking crime that still haunts his small Texas town. Now the terror has returned and the woman who escaped the attack is a target again.
Jodi Canton loved Gabriel—until that love shattered with his parents' murder and her father's conviction. Taunted with threats, she's determined to bait the real killer out of hiding. Drawing out a criminal puts her life on the line, but Gabriel's protection puts her heart in danger. Even if they survive a predator, can they risk everything to heal each other?

Purchase Links
__________________________________
Series: Copper Ridge
Mass Market Paperback: 480 pages
Publisher: HQN Books (October 24, 2017)
It's Christmas in Copper Ridge, and love is waiting to be unwrapped… 
Falling for a bad boy once is forgivable. Twice would just be foolish. When Sabrina Leighton first offered her teenage innocence to gorgeous, tattooed Liam Donnelly, he humiliated her, then left town. The hurt still lingers. But so does that crazy spark. And if they have to work together to set up her family winery's new tasting room by Christmas, why not work him out of her system with a sizzling affair?
Thirteen years ago, Liam's boss at the winery offered him a bribe—leave his teenage daughter alone and get a full ride at college. Convinced he wasn't good enough for Sabrina, Liam took it. Now he's back, as wealthy as sin and with a heart as cold as the Oregon snow. Or so he keeps telling himself. Because the girl he vowed to stay away from has become the only woman he needs, and this Christmas could be just the beginning of a lifetime together…

Purchase Links
__________________________________
Print Length: 224 pages
Publisher: Harlequin Desire (December 1, 2017)
Publication Date: December 5, 2017
Three nights with a Texan…and one pregnancy surprise! Only from New York Times bestselling author Brenda Jackson!
The Texas rancher and navy SEAL who fathered Bristol Lockett's son died a hero's death…or so she was told. Yet when Laramie "Coop" Cooper strolls into her exhibit at an art gallery three years later, he's very much alive—and still making her pulse zing. The all-consuming chemistry between them is as undeniable now as it was then, but Bristol won't risk her heart—or their son's. Little does Bristol know he's determined to win over his unexpected family at any cost!

Purchase Links
__________________________________
Genre: Romance
Imprint: Carina
On-sale date: January 22, 2018
The Boardroom. After hours, it's where Bay Area moguls indulge their fantasies. Ties are loosened. Inhibitions, too.
Assistant Avery Fast watched from a distance, mouth gaping, blood roaring wildly in her ears as she stared at the naked woman on the table before her. At executive Carson Taggert ordering a man to pleasure her. It made her feel guilty, embarrassed…and hot.
Carson watched and waited. Waited for Avery to notice him in the Boardroom. Waited for her to like what she saw. Waited to see what she'd do the next day. And the next. He couldn't let her go—not when she'd seen what goes on in the Boardroom. He couldn't stop thinking about the desire in her eyes, the flush on her cheeks, her obvious arousal.
Getting her to join was easy. But now Carson wants Avery all to himself.

Purchase Links
__________________________________
Print Length: 400 pages
Publisher: HQN Books
Publication Date: November 28, 2017
There's no resisting a desire like this…
MMA fighter Miles Dartman's casual arrangement with personal shopper Maxi Nevar would be many men's fantasy. She seeks him out, they have mindblowing sex, she leaves. Rinse, repeat. Yet lately, Miles wants more. And when Maxi requests his services via the Body Armor security agency, he's ready to finally break through her defenses—and protect her day and night.
Receiving a large inheritance has brought chaos and uncertainty into Maxi's life. Her ex has resurfaced, along with lots of former "friends," and someone is making mysterious threats. Then there's Miles, who doesn't ask for anything…except her trust. Pleasure is easy. Now Maxi has to give her heart as well as her body…or risk losing a man who could be everything she needs.

Purchase Links
__________________________________

Mass Market Paperback: 384 pages
Publisher: HQN Books (November 28, 2017)
Nothing will stop a Cahill cowboy from protecting what's his
After a rocky marriage and even rockier divorce, Sheriff Flint Cahill finally has something good in his life again. Maggie Thompson's down-to-earth charm and beautiful smile hooked him from the start. When she disappears on the day they plan to start their lives together, all signs point to abduction—and his ex-wife.
Functioning on adrenaline and instinct, Flint must call on his every resource to bring Maggie home before it's too late. His past and future are blurred. Maggie's only chance at surviving her abductor and a raging winter storm depends on an old vendetta that could destroy it all. But the Cahills don't give up easily, and Flint's love will have to be strong enough to conquer anything, including the unimaginable.

Purchase Links
__________________________________
Series: The Cowboys of Cold Creek (Book 16)
Mass Market Paperback: 224 pages
Publisher: Harlequin Special Edition (October 17, 2017)
Keep a song in your heart this holiday season… 
Music teacher Ella Baker's plate is already full. But when single dad Beckett McKinley's wild twin boys need help preparing a Christmas song for their father, Ella agrees on one condition: they teach her to ride a horse. She's hoping that'll help mend her strained relationship with her rancher father; it certainly has nothing to do with the crush that's lingered since her one and only date with Beck.
It isn't disinterest spurring Beck to keep his distance—if anything, the spark is too strong, with Ella reminding him of his ex-wife. Soon what started as an innocent arrangement is beginning to feel a lot like family. But with the holidays approaching, Beck and Ella will have to overcome past hurts if they want to keep each other warm this Christmas…

Purchase Links
__________________________________
Print Length: 368 pages
Publisher: MIRA
Publication Date: October 24, 2017
Join USA TODAY bestselling author Sheila Roberts this Christmas as she returns for the final installment in her treasured Icicle Falls series
When Muriel Sterling released her new book, A Guide to Happy Holidays, she felt like the queen of Christmas. She's thrilled when the new tree she ordered online arrives and is eager to show it off—until she gets it out of the box and realizes it's a mangy dud. But rather than give up on the ugly tree, Muriel decides to make a project out of it. As she pretties up her tree, she realizes there's a lesson to be learned: everything and everyone has potential. Maybe even her old friend Arnie, who's loved her for years. Except, she's not the only one seeing Arnie's potential…
Meanwhile, Muriel's ugly-tree project has also inspired her friends. Sienna Moreno is trying to bring out the best in the grouchy man next door, who hates noise, hates kids and hates his new neighbors. And while Olivia Claussen would love to send her obnoxious new daughter-in-law packing, she's adjusting her attitude and trying to discover what her son sees in the girl. If these women can learn to see the beauty in the "ugly trees" in their lives, perhaps this might turn out to be the happiest holiday yet.

Purchase Links
__________________________________
Mass Market Paperback: 400 pages
Publisher: HQN Books (November 28, 2017)
Sarah Morgan is back with more love and laughter in her acclaimed series, From Manhattan With Love, which Publishers Weekly calls a "sweep-you-off-your-feet romantic experience." 
Determined to conquer a lifetime of shyness, Harriet Knight challenges herself to do one thing a day in December that scares her, including celebrating Christmas without her family. But when dog walker Harriet meets her newest client, exuberant spaniel Madi, she adds an extra challenge to her list—dealing with Madi's temporary dog sitter, gruff doctor Ethan Black, and their very unexpected chemistry.
Ethan thought he was used to chaos, until he met Madi—how can one tiny dog cause such mayhem? To Ethan, the solution is simple—he will pay Harriet to share his New York apartment and provide twenty-four-hour care. But there's nothing simple about how Harriet makes him feel.
Ethan's kisses make Harriet shine brighter than the stars over moonlit Manhattan. But when his dog-sitting duties are over and Harriet returns to her own home, will she dare to take the biggest challenge of all—letting Ethan know he has her heart for life, not just for Christmas?

Purchase Links
__________________________________
No Regrets: A Lexi Carmichael Mystery by Julie Moffett
Print Length: 243 pages
Publisher: Carina Press (January 1, 2018)
Geek girl Lexi Carmichael has tackled her share of formidable tasks, but nothing quite as daunting as serving as maid of honor at her best friend's wedding
When I agreed to stand by my best friend, Basia, on her big day, I had no idea what I was in for. Bouquets and unflattering evening wear I can handle. But between disgruntled dates, a beach venue and suspicious packages, what else can go wrong? Oh, right—my parents don't know I've moved in with Slash. Oops?
Thankfully, I've got everything semi under control, at least as far as Basia and Xavier know. They can leave for their honeymoon happy, knowing Elvis, Slash and I will keep things safe at home.
Meanwhile, Elvis and Xavier's boss at ComQuest has asked X-Corp—well, me—to take a quick trip to retrieve a sensitive company package from the British Virgin Islands. No hacking involved. Just show up, accept the package and bring it home safely. A cushy assignment, and a safe one. Right?
Wrong. Things start to unravel the minute I set foot on the boat to the island. Before I know it, I'm up to my neck in thugs, sand and trouble. I'm going to have to work fast to stop the bad guys before the sun sets for good on this unexpected beach vacation…
And don't miss the rest of Julie Moffett's Lexi Carmichael Mysteries: No One Lives Twice, No One To Trust, No Money Down, No Place Like Rome, No Biz Like Showbiz, No Test for the Wicked, No Woman Left Behind, No Room for Error, No Strings Attached and No Living Soul, available now from Carina Press!

Purchase Links
Print Length: 416 pages
Publisher: HQN Books (November 1, 2017)
New York Times bestselling author Gena Showalter is back with a sizzling Original Heartbreakers tale about an icy war vet and the only woman capable of melting him…
With trust issues a mile long, Ryanne Wade has sworn off men. Then Jude Laurent walks into her bar, and all bets are off. The former army ranger has suffered unimaginably, first being maimed in battle then losing his wife and daughters to a drunk driver. Making the brooding widower smile is priority one. Resisting him? Impossible.
For Jude, Ryanne is off-limits. And yet the beautiful bartender who serves alcohol to potential motorists tempts him like no other. When a rival bar threatens her livelihood—and her life—he can't turn away. She triggers something in him he thought long buried, and he's determined to protect her, whatever the cost.
As their already scorching attraction continues to heat, the damaged soldier knows he must let go of his past to hold on to his future…or risk losing the second chance he desperately needs.

Purchase Links
__________________________________
TLC Book Tours TOUR STOPS for Winter Holiday Traditions (+ reads!) from Harlequin:
Monday, December 4th: Satisfaction for Insatiable Readers – Linda Lael Miller guest post
Wednesday, December 6th: The Romance Dish – – excerpt from Can't Let Go by Gena Showalter
Friday, December 8th: Books and Spoons – Delores Fossen guest post, "Candy Cane Memories"
Monday, December 11th: Moonlight Rendezvous – Maisey Yates guest post
Wednesday, December 13th: From the TBR Pile – Brenda Jackson guest post, "New Year, New Me!"
Thursday, December 14th: Romancing the Book –Can't Let Go by Gena Showalter – review
Friday, December 15th: Crystal Blogs Books – Lynda Aicher guest post, "Cookies! Cookies! Cookies!"
Monday, December 18th: Reading Reality – Lori Foster guest post, "Lori Foster's Own Family Holiday Traditions"
Wednesday, December 20th: Novel Gossip – B. J. Daniels guest post
Friday, December 22nd: The Sassy Bookster – RaeAnne Thayne guest post
Monday, December 25th: The Sketchy Reader – Sheila Roberts guest post, "Decking the Halls"
Wednesday, December 27th: Romantic Reads and Such – Julie Moffett guest post, "Make 2018 the Year of You"
Friday, December 29th: Books a la Mode – Sarah Morgan excerpt