_____________________________
Best Selling Author and Award finalist with Readers Favorite, Mallory McCartney, invites bookclubs to experience her thrilling YA fantasy debut, Black Dawn. Experience the page turning world of Kiero, and see what has readers grappling for more.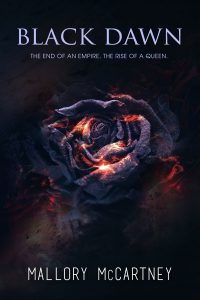 Black Dawn by Mallory McCartney
Emory Fae enjoys leading a quiet, normal life. That is until two mysterious, and handsome soldiers show up at her apartment, and the life she knew is instantly whisked away. Memphis Carter and Brokk Foster come from the magical and war ridden world of Kiero, and upon Emory's arrival she will discover she is the long lost heir to the Royal Line and is thrown into the Black Dawn Rebellion with a dynamic role to ignite the rebels and reclaim her throne.
With both men being darkly woven in her past Emory uncovers hidden secrets, a power held long dormant, and will soon realize there are worse things than supernatural humans, love, loss, betrayal, and a Mad King.
Some things are better left in the shadows.

Purchase Links
_____________________________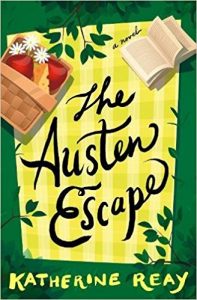 The Austen Escape by Katherine Reay
Falling into the past will change their futures forever.
Mary Davies finds safety in her ordered and productive life. Working as an engineer, she genuinely enjoys her job and her colleagues – particularly a certain adorable and intelligent consultant. But something is missing. When Mary's estranged childhood friend, Isabel Dwyer offers her a two-week stay in a gorgeous manor house in England, she reluctantly agrees in hopes that the holiday will shake up her quiet life in just the right ways.
But Mary gets more than she bargained for when Isabel loses her memory and fully believes she lives in Jane Austen's Bath. While Isabel rests and delights in the leisure of a Regency lady, attended by the other costume-clad guests, Mary uncovers startling truths about their shared past, who Isabel was, who she seems to be, and the man who now stands between them.
Outings are undertaken, misunderstandings play out, and dancing ensues as this company of clever, well-informed people, who have a great deal of conversation, work out their lives and hearts.

Purchase Links
_____________________________
From the bestselling author of The Girl From the Train, comes another compelling coming of age story of delayed love, loss, and reconciliation in WWII-era South Africa.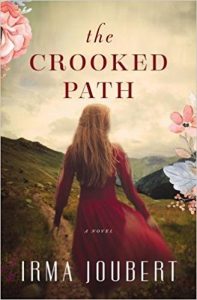 The Crooked Path by Irma Joubert
Lettie has always felt different from and overshadowed by the women around her– this friend is richer, that friend is more beautiful, those friends are closer. Still, she doesn't let this hold her back. She works hard to apply her mind, trying to compensate for her perceived lack of beauty with diligent academic work and a successful career as a doctor. She learns to treasure her friendships, but she still wonders if any man will ever return her interest.
Marco's experiences in the second world war have robbed him of love and health. When winters in his native Italy prove dangerous to his health even after the war has ended, he moves to South Africa to be with his brother, husband to one of Lettie's best friends. Marco is Lettie's first patient, and their relationship grows as she aids him on the road back to restored health.
In the company of beloved characters from The Child of the River, Marco and Lettie find a happiness that neither of them thought possible. With that joy comes pain and loss, but Lettie learns that life—while perhaps a crooked path—is always a journey worth taking.

Purchase Links
_____________________________
Former free spirit Zoe Collins swore she'd never again set foot in Copper Creek or speak to the man who broke her heart. But return she must when her beloved Granny dies, leaving the family legacy to Zoe—a peach orchard nestled at the base of the Blue Ridge Mountains.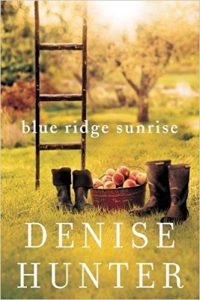 Blue Ridge Sunrise by Denise Hunter
When Zoe returns home with her daughter and boyfriend Kyle, she finds that she's the only person in town who doesn't expect her to give up the life she's established far away from Copper Creek. Everyone believes she was born to run the orchard, but how can she make it her home after so many years?
Cruz Huntley never quite got over his first love, Zoe Collins, the little sister of his best friend Brady. Not when she cheated on him during their "break," not when she took off to parts unknown with good-for-nothing Kyle Jenkins, and not even now—five years later.
As life-changing decisions and a history with Cruz hang over Zoe's head, tensions rise between her and Kyle. Even as she comes to terms with the shifting relationships in her life, Zoe still isn't sure if she can remain in Copper Creek with her new responsibilities . . . and her first love.

Purchase Links
_____________________________
"If you liked Big Little Lies, you'll want to crack open this new novel by Nicole Baart." —Southern Living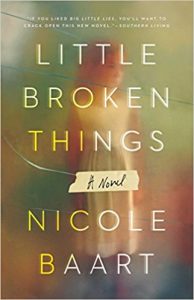 Little Broken Things  by Nicole Baart
An engrossing and suspenseful novel for fans of Liane Moriarty and Amy Hatvany about an affluent suburban family whose carefully constructed facade starts to come apart with the unexpected arrival of an endangered young girl.
I have something for you. When Quinn Cruz receives that cryptic text message from her older sister Nora, she doesn't think much of it. They haven't seen each other in nearly a year and thanks to Nora's fierce aloofness, their relationship consists mostly of infrequent phone calls and an occasional email or text. But when a haunted Nora shows up at the lake near Quinn's house just hours later, a chain reaction is set into motion that will change both of their lives forever.
Nora's "something" is more shocking than Quinn could have ever imagined: a little girl, cowering, wide-eyed, and tight-lipped. Nora hands her over to Quinn with instructions to keep her safe, and not to utter a word about the child to anyone, especially not their buttoned-up mother who seems determined to pretend everything is perfect. But before Quinn can ask even one of the million questions swirling around her head, Nora disappears, and Quinn finds herself the unlikely caretaker of a girl introduced simply as Lucy.
While Quinn struggles to honor her sister's desperate request and care for the lost, scared Lucy, she fears that Nora may have gotten involved in something way over her head—something that will threaten them all. But Quinn's worries are nothing compared to the firestorm that Nora is facing. It's a matter of life and death, of family and freedom, and ultimately, about the lengths a woman will go to protect the ones she loves.

Purchase Links
_____________________________
Please fill out our super short registration form (<—click here) by November 30th for a chance to win a set of up to ten copies of one of these great books for your book club! We will randomly choose a winner at the end of the month. This contest is open to clubs in the US only (our apologies to friends in other countries). 
.
Best of luck!
We 
LOVE

 Book Clubs!