Series: Body Armor
Mass Market Paperback: 400 pages
Publisher: HQN (November 28, 2017)
There's no resisting a desire like this…
MMA fighter Miles Dartman's casual arrangement with personal shopper Maxi Nevar would be many men's fantasy. She seeks him out, they have mindblowing sex, she leaves. Rinse, repeat. Yet lately, Miles wants more. And when Maxi requests his services via the Body Armor security agency, he's ready to finally break through her defenses—and protect her day and night.
Receiving a large inheritance has brought chaos and uncertainty into Maxi's life. Her ex has resurfaced, along with lots of former "friends," and someone is making mysterious threats. Then there's Miles, who doesn't ask for anything…except her trust. Pleasure is easy. Now Maxi has to give her heart as well as her body…or risk losing a man who could be everything she needs.

Purchase Links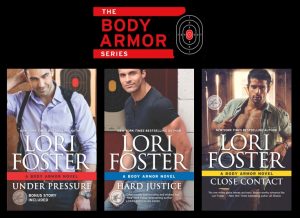 .
About Lori Foster
Lori Foster is a New York Times and USA TODAY bestselling author with books from a variety of publishers, including Berkley/Jove, Kensington, St. Martin's, Harlequin and Silhouette. Lori has been a recipient of the prestigious RT Book Reviews Career Achievement Award for Series Romantic Fantasy, and for Contemporary Romance. For more about Lori, visit her Web site at www.lorifoster.com.
Connect with Lori
Lori Foster's TLC Book Tours TOUR STOPS:
Monday, November 20th: From the TBR Pile
Tuesday, November 21st: Bewitched Bookworms
Thursday, November 23rd: Books, Coffee & Passion
Friday, November 24th: What Is That Book About – excerpt
Monday, November 27th: Evermore Books
Monday, November 27th: Recommended Romance
Monday, November 27th: Books a la Mode – excerpt
Monday, November 27th: Stranded in Chaos
Tuesday, November 28th: Cara's Book Boudoir
Tuesday, November 28th: Sultry Sirens Book Blog – excerpt
Wednesday, November 29th: Reading Reality
Thursday, November 30th: Thoughts of a Blond
Friday, December 1st: Smexy Books
Friday, December 1st: Staircase Wit
Monday, December 4th: The Sassy Bookster
Monday, December 4th: Natalie the Biblioholic
Tuesday, December 5th: OMG Reads
Wednesday, December 6th: Of Pens and Pages
Wednesday, December 6th: Jathan & Heather
Friday, December 8th: Cheryl's Book Nook
Monday, December 11th: Moonlight Rendezvous
Monday, December 11th: Nightbird Novels
Tuesday, December 12th: Books & Spoons
Wednesday, December 13th: Mystery Suspense Reviews
Thursday, December 14th: Rocking and Reviewing
Friday, December 15th: Becky on Books