_____________________________
Indulge your wanderlust and follow your wildest dreams.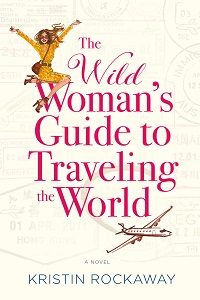 The Wild Woman's Guide to Traveling the World by Kristin Rockaway
Kristin is happy to attend virtual book clubs via Skype or Google Hangout! Find out more at her website.
Fans of Sophie Kinsella and The Devil Wears Prada will love this smart, sexy debut novel of wanderlust.
Objectively, Sophie is a success: she's got a coveted job at a top consulting firm, a Manhattan apartment, and a passport full of stamps. It isn't quite what she dreamed of when she was a teenager dog-earing pages in exotic travel guides, but it's secure. Then her best friend bails just hours after they arrive in Hong Kong for a girls' trip, and Sophie falls for Carson, a free spirited, globetrotting American artist. He begs her to join him on his haphazard journey, but she chooses responsibility and her five-year plan.
Back in New York, that plan feels less and less appealing. As Sophie recalls the dreams she's suppressed, the brief international jaunts she sneaks in between business trips no longer feel like enough. Carson isn't ready to let her go either, but as they try to figure out their relationship, Sophie realizes she may have to pursue her passions with or without him.

Purchase Links
_____________________________
Book clubs will love the holiday magic in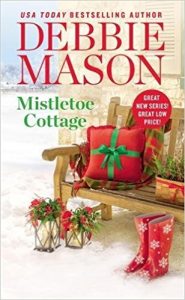 Mistletoe Cottage by Debbie Mason
'Tis the season for love . . . 
Sophie DiRossi loved growing up in Harmony Harbor. But after fleeing in disgrace many years ago, it is the last place she wants to be. Left homeless by a fire, she's forced to go back to the small coastal town that harbors a million secrets, including her own. Sophie sees this secret reflected every day in her daughter's blue eyes-and she must keep it hidden from the only man she has ever loved.
Sophie's return is a shock for everyone . . . especially Liam Gallagher. The firefighter had some serious feelings for Sophie-and seeing her again sparks a desire so fierce it takes his breath away. Now Liam will do whatever it takes to show Sophie that they deserve a second chance at love, even if everything they've concealed threatens to keep them apart. In this special town at this special time of the year, Sophie and Liam can only hope for a little holiday magic…
"Heartfelt and delightful!"?RaeAnne Thayne, New York Times bestselling author
"Top Pick! 4 1/2 Stars! Mason has a knockout with the first book in her Harmony Harbor series."?RT Book Reviews on Mistletoe Cottage
Click HERE to check out all the books in the Harmony Harbor series, including the latest, Sugarplum Way!

Purchase Links
_____________________________
Unexpected romance and holiday magic await!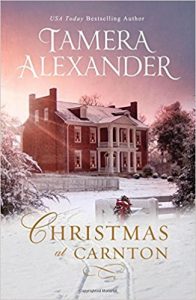 Christmas at Carnton by Tamera Alexander
A Christmas story to launch a brand new three-book series…  The Carnton Novels
Amid war and the fading dream of the Confederacy, a wounded soldier and a destitute widow discover the true meaning of Christmas – and of sacrificial love.
Recently widowed, Aletta Prescott struggles to hold life together for herself and her six-year old son. With the bank threatening to evict, she discovers an advertisement for the Women's Relief Society auction and applies for a position – only to discover it's been filled. Then a chance meeting with a wounded soldier offers another opportunity – and friendship. But can Aletta trust this man?
Captain Jake Winston, a revered Confederate sharpshooter, suffered a head wound at the Battle of Chickamauga. When doctors deliver their diagnosis, Jake fears losing not only his greatest skill but his very identity. As he heals, Jake is ordered to assist with a local Women's Relief Society auction. He respectfully objects. Kowtowing to a bunch of "crinolines" isn't his idea of soldiering. But orders are orders, and he soon discovers this group of ladies – one, in particular – is far more than he bargained for.
Set against the backdrop and history of the Carnton Plantation in Franklin, Tennessee, Christmas at Carnton is a story of hope renewed and faith restored at Christmas.

Purchase Links
_____________________________
"Damned is riveting, an absolute page turner. Just when you think the carnival ride is over you discover it's barely begun … If you only read one book, this should be it." ~Midwest Book Review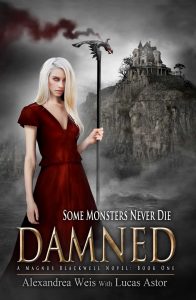 Damned by Alexandrea Weis with Lucas Astor
Over a hundred years after the death of Magnus Blackwell, Altmover Manor sits abandoned.
Lexie Arden and her fiancé, Will Bennet, are determined to rescue the neglected Mount Desert Island landmark. They want to make Altmover Manor their home. But Magnus has other plans.
A spirit bound to his former residence, Magnus finds himself inexplicably drawn to the young woman. She has a supernatural gift; a gift Magnus wants to exploit.
As Lexie and Will settle in, secrets from Magnus's past begin to surface. Compelled to learn all she can about the former owner, Lexie becomes immersed in a world of voodoo, curses, and the whereabouts of a mysterious dragon cane.
Magnus's crimes won't be so easily forgotten, and what Lexie unearths is going to change the future … for everyone.
Find out about the other books in the series.

Purchase Links
_____________________________
Please fill out our super short registration form (<—click here) by October 31st for a chance to win a set of up to ten copies of one of these great books for your book club! We will randomly choose a winner at the end of the month. This contest is open to clubs in the US only (our apologies to friends in other countries). 
.
Best of luck!
We 
LOVE

 Book Clubs!