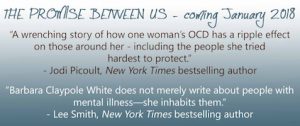 About The Promise Between Us
• Paperback
• Publisher: Lake Union Publishing (January 16, 2018)
From the bestselling author of The Perfect Son comes a hopeful tale of redemption, renewal, and the promise of love.
Metal artist Katie Mack is living a lie. Nine years ago she ran away from her family in Raleigh, North Carolina, consumed by the irrational fear that she would harm Maisie, her newborn daughter. Over time she's come to grips with the mental illness that nearly destroyed her, and now funnels her pain into her art. Despite longing for Maisie, Katie honors an agreement with the husband she left behind—to change her name and never return.
But when she and Maisie accidentally reunite, Katie can't ignore the familiarity of her child's compulsive behavior. Worse, Maisie worries obsessively about bad things happening to her pregnant stepmom. Katie has the power to help, but can she reconnect with the family she abandoned?
To protect Maisie, Katie must face the fears that drove her from home, accept the possibility of love, and risk exposing her heart-wrenching secret.

Purchase Links
About Barbara Claypole White
Bestselling author Barbara Claypole White creates hopeful family drama with a healthy dose of mental illness. Originally from England, she writes and gardens in the forests of North Carolina where she lives with her beloved OCD family. Her novels include The Unfinished Garden, The In-Between Hour, The Perfect Son, and Echoes of Family. The Promise Between Us, a story of redemption, sacrifice, and OCD, has a publication date of January 16th, 2018. She is also an OCD Advocate for the A2A Alliance, a nonprofit group that promotes advocacy over adversity. To connect with Barbara, please visit www.barbaraclaypolewhite.com, or follow her on Facebook. She's always on Facebook.
Tour Stops
Tuesday, January 16th: Doing Dewey
Thursday, January 18th: Books and Bindings
Friday, January 19th: Readaholic Zone
Monday, January 22nd: Kritters Ramblings
Thursday, January 25th: Leah DeCesare
Friday, January 26th: What Is That Book About
Monday, January 29th: Just One More Chapter
Tuesday, January 30th: Book by Book
Thursday, February 1st: Wining Wife
Wednesday, February 7th: A Chick Who Reads
Thursday, February 8th: Novel Gossip
Monday, February 12th: SJ2B House Of Books
Tuesday, February 13th: Thoughts On This 'n That
Thursday, February 22nd: The Geeky Bibliophile
Friday, February 23rd: Cerebral Girl in a Redneck World
Wednesday, February 28th: Comfy Reading
Tuesday, March 6th: Instagram: @writersdream