Mass Market Paperback: 400 pages
Publisher: HQN Books (November 28, 2017)
Sarah Morgan is back with more love and laughter in her acclaimed series, From Manhattan With Love, which Publishers Weekly calls a "sweep-you-off-your-feet romantic experience." 
Determined to conquer a lifetime of shyness, Harriet Knight challenges herself to do one thing a day in December that scares her, including celebrating Christmas without her family. But when dog walker Harriet meets her newest client, exuberant spaniel Madi, she adds an extra challenge to her list—dealing with Madi's temporary dog sitter, gruff doctor Ethan Black, and their very unexpected chemistry.
Ethan thought he was used to chaos, until he met Madi—how can one tiny dog cause such mayhem? To Ethan, the solution is simple—he will pay Harriet to share his New York apartment and provide twenty-four-hour care. But there's nothing simple about how Harriet makes him feel.
Ethan's kisses make Harriet shine brighter than the stars over moonlit Manhattan. But when his dog-sitting duties are over and Harriet returns to her own home, will she dare to take the biggest challenge of all—letting Ethan know he has her heart for life, not just for Christmas?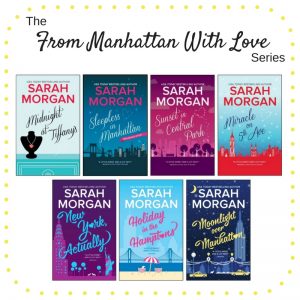 Purchase Links
About Sarah Morgan
USA Today bestselling author Sarah Morgan writes lively, sexy contemporary stories for Harlequin.
Romantic Times has described her as 'a magician with words' and nominated her books for their Reviewer's Choice Awards and their 'Top Pick' slot. In 2012 Sarah received the prestigious RITA® Award from the Romance Writers of America. She lives near London with her family.
.
Connect with Sarah
Sarah Morgan's TLC Book Tours TOUR STOPS:
Monday, November 27th: Katy's Library blog and @katyslibrary
Monday, November 27th: Romancing the Book
Tuesday, November 28th: Moonlight Rendezvous
Tuesday, November 28th: A Holland Reads
Wednesday, November 29th: Books & Bindings
Thursday, November 30th: @athousandbookstoread
Thursday, November 30th: A Chick Who Reads
Friday, December 1st: Thoughts of a Blonde
Monday, December 4th: Literary Llama blog and @theliteraryllama
Monday, December 4th: Cara's Book Boudoir
Tuesday, December 5th: Bewitched Bookworms
Wednesday, December 6th: Laura's Reviews
Wednesday, December 6th: Girls in Books blog and @girlsinbooks
Thursday, December 7th: Kritter's Ramblings
Friday, December 8th: View from the Birdhouse
Friday, December 8th: Chick Lit Central
Monday, December 11th: The Sassy Bookster
Monday, December 11th: Ms. Nose in a Book
Tuesday, December 12th: Novel Gossip blog and @novelgossip
Tuesday, December 12th: Snowdrop Dreams and @snowdropdreams
Wednesday, December 13th: Satisfaction for Insatiable Readers
Thursday, December 14th: Literary Jo Reviews blog and @literaryjo
Friday, December 15th: Not in Jersey blog and @notinjersey
Monday, December 18th: From the Library of Mrs. Gardner blog and @mrs.literarylovely
Monday, December 18th: Why Girls are Weird
Tuesday, December 19th: Diary of a Stay at Home Mom
Tuesday, December 19th: Cheryl's Book Nook
Wednesday, December 20th: Stranded in Chaos
Wednesday, December 20th: From the TBR Pile
Friday, December 22nd: Thoughts on This 'n That