_____________________________
Domestic noir at its best.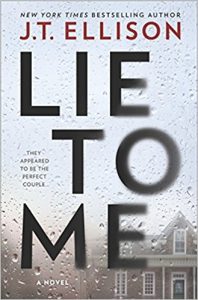 Lie to Me by JT Ellison
Readers will devour this stunning page-turner about the disintegration of a marriage as grief, jealousy, betrayal and murder destroy the facade of the perfect literary couple. New York Times bestselling author J.T. Ellison takes her exceptional writing to a new level with this breakout novel. 
They built a life on lies 
Sutton and Ethan Montclair's idyllic life is not as it appears. They seem made for each other, but the truth is ugly. Consumed by professional and personal betrayals and financial woes, the two both love and hate each other. As tensions mount, Sutton disappears, leaving behind a note saying not to look for her.
Ethan finds himself the target of vicious gossip as friends, family and the media speculate on what really happened to Sutton Montclair. As the police investigate, the lies the couple have been spinning for years quickly unravel. Is Ethan a killer? Is he being set up? Did Sutton hate him enough to kill the child she never wanted and then herself? The path to the answers is full of twists that will leave the reader breathless.
"LIE TO ME twists you up, throws you into nail-biting action and unexpected revelations. Belt yourself in for this roller coaster ride."–Catherine Coulter, #1 New York Times bestselling author of ENIGMA
"LIE TO ME brilliantly combines a domestic noir thriller with a searing portrait of two writers trapped in a web of lies, betrayals, and murder. Sharply written and masterfully plotted, full of hard truths about the creative life and modern marriage, Ellison has written her finest novel- a breakout page-turner certain to win her a wide audience." -Jeff Abbott, New York Times bestselling author of BLAME

Purchase Links
_____________________________
Fascinating historical fiction!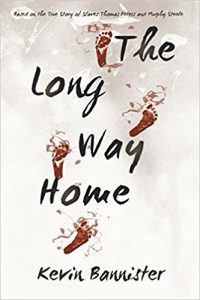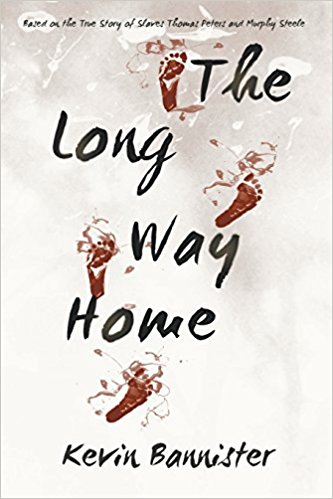 The Long Way Home by Kevin Bannister
Set in the turbulent times of the War of Independence, 'The Long Way Home' follows the lives of Thomas Peters and Murphy Steele who are friends, former slaves, fellows-in-arms and leaders of the Black Brigade. Their real-life story is an epic adventure tale as they battle bounty hunters, racism, poverty and epidemic in their adopted country after the war.
'The Long Way Home' has resonated with readers around the world as an unforgettable account of courage, hope and determination triumphing over despair and injustice. Thomas Peters, thoughtful and charismatic, and Murphy Steele, strong and impulsive, lead their followers on an inspirational search for a place where they can be free.
Reviews:
"The author has written about such a sensitive topic and in a very beautiful way. The reader will become immersed in a reality that may seem too distant, but written in a language that conjures very vivid images, a tale that will speak to the hearts of readers with eloquence. Bannister has successfully combined historical facts with glowing imagination to deliver a masterpiece that will be well received by lovers of historical fiction. His language succinctly portrays the world of a slave and the injustices prevalent in that world."–Romuald Dzemo, author of Courage To Embrace Yourself and You Can't Be A Failure
"Kevin Bannister's Long Way Home is a novel that grabs your attention from the start and keeps you riveted to the last word. . It is written around an era where the life of an Indigenous North American, and a person of African roots, were deemed by Caucasians to be easily expendable and not a thing to trouble a conscience. It highlights in great detail the fact that when greed and self interest came to the forefront during the American Revolution that Caucasian brothers had no compulsion about inflicting unspeakable barbarities upon each other. An unforgettable read!"–Dr. Daniel N. Paul, C.M., O.N.S., LLD, DLIT, Mi'kmaw eldering, author of We Were Not The Savages, Order of Canada recipient, journalist and lecturer, www.danielpaul.com

Purchase Links
_____________________________
Please fill out our super short registration form (<—click here) by September 30th for a chance to win a set of up to ten copies of one of these great books for your book club! We will randomly choose a winner at the end of the month. This contest is open to clubs in the US only (our apologies to friends in other countries). 
.
Best of luck!
We 
LOVE

 Book Clubs!