_____________________________
Book clubs will find much to love
in this fascinating story!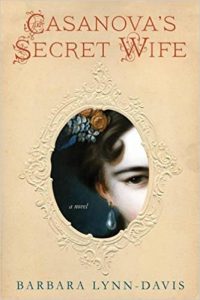 Casanova's Secret Wife by Barbara Lynn-Davis
Set in eighteenth-century Venice and based on an actual account by Giacomo Casanova—here is a lush tale of desire and risk, offering a little known portrait of the writer as a young man.
Caterina Capreta was an innocent girl of fourteen when she caught the attention of the world's most infamous chronicler of seduction: Giacomo Casanova. Intoxicated by a fierce love, she wed Casanova in secret. But his shocking betrayal inspired her to commit an act that would mark her forever . . .
Now twenty years later on the island of Murano, the woman in possession of Caterina's most devastating secret has appeared with a request she cannot refuse: to take in a noble-born girl whose scandalous love affair resembles her own. But the girl's presence stirs up unwelcome memories of Caterina's turbulent past. Tested like never before, she reveals the story of the man she will never forget . . .
Bringing to life a fascinating chapter in the history of Venice, Casanova's Secret Wife is a tour de force that charts one woman's journey through love and loss to redemption.
"Full of passion and rich historical detail . . . an enthralling read, impossible to put down." —Phyllis T. Smith, bestselling author of I Am Livia and The Daughters of Palatine Hill
"This is Venice beneath the mask: A dark and fascinating love story hiding in the shadows of the golden city." —Marina Fiorato, bestselling author of The Glassblower of Murano
"Lynn-Davis admirably incorporates historical detail into this page-turning drama of mystery, love, and loss….Yet the standout is her depiction of Casanova – Lynn-Davis clearly enjoys crafting a real-life character who stands apart from the legend, making him the book's most enduring character." – Publishers Weekly
"Lynn-Davis debuts with a fascinating story based on the notorious lover Giacomo Casanova's writings. With Venice as the romantic backdrop and young love as its focus, this stunning tale of passion, betrayal and redemption is a richly woven tapestry of Casanova's early life. By bringing little known history to life, Lynn-Davis delivers an unforgettable love story, centering not only on Casanova, but two women who share the beauty of love and the pain of loss; one will find salvation and the other true happiness."- RT Book Reviews, 4 Stars
"Caterina and Casanova … surely one of the most passionate love stories of all time." –Historical Novel Society
Enjoy an evening with your club of great discussion and authentic Venetian food and drink (like the Bellini, chilled prosecco mixed with fresh peach puree). For details visit www.barbaralynndavis.com.
The author enthusiastically welcomes joining your Venetian-themed evening via Skype or Facetime (food and drink optional).

Purchase Links
_____________________________
.
Don't miss this historical mystery set in medieval Japan!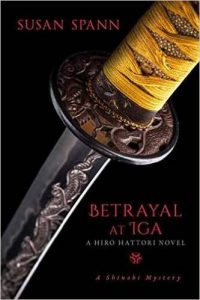 Betrayal at Iga by Susan Spann
Autumn, 1565: After fleeing Kyoto, master ninja Hiro Hattori and Portuguese Jesuit Father Mateo take refuge with Hiro's ninja clan in the mountains of Iga province. But when an ambassador from the rival Koga clan is murdered during peace negotiations, Hiro and Father Mateo must find the killer in time to prevent a war between the ninja clans.
With every suspect a trained assassin, and the evidence incriminating not only Hiro's commander, the infamous ninja Hattori Hanzo, but also Hiro's mother and his former lover, the detectives must struggle to find the truth in a village where deceit is a cultivated art. As tensions rise, the killer strikes again, and Hiro finds himself forced to choose between his family and his honor.
"Spann keeps getting better, as shown by her fifth novel set in 16th-century Japan, a taut closed-circle mystery with perilous consequences…. Fans of classic whodunits will be pleased."—PUBLISHERS WEEKLY     

Purchase Links
_____________________________
Dryland will surprise, delight and inspire book clubs with author Nancy Bercaw's long, strange trip from superstar swimmer to drunk globetrotter.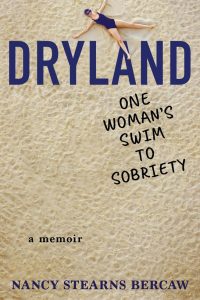 Dryland by Nancy Stearns Bercaw
For swimming champion Nancy Stearns Bercaw, the pool was a natural habitat. But on land, she could never shake the feeling of being a fish out of water. Starting at age two, Nancy devoted her life to swimming, even qualifying for the 1988 Olympic Trials in the fifty-meter freestyle event. But when she hung up her cap and goggles after college, she was confronted with a different kind of challenge: learning who she was out of the lanes.
In this honest, intimate memoir, Nancy reflects on her years wandering the globe, where tragic events and a lost sense of self escalate her dependence on booze. Thirty-three years after her first sip of alcohol, the swimmer comes to a stunning realization while living with her husband and son in Abu Dhabi—she's drowning in the desert. Nancy looks to the Bedouin people for the strength to conquer one final opponent: alcohol addiction.
Praise
"A brave, honest, adventurous memoir that keeps you turning pages as Bercaw travels around the world and rediscovers what it really means to win…at life." —Leigh Newman, author of Still Points North

Purchase Links
_____________________________
Please fill out our super short registration form (<—click here) by August 31st for a chance to win a set of up to ten copies of one of these great books for your book club! We will randomly choose a winner at the end of the month. This contest is open to clubs in the US only (our apologies to friends in other countries). 
.
Best of luck!
We 
LOVE

 Book Clubs!