_____________________________
USA Today bestselling author Colleen Coble invites book clubs back to the danger and romance of Rock Harbor.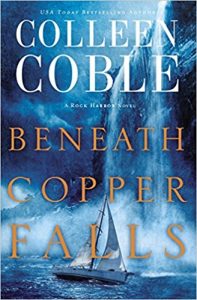 Beneath Copper Falls by Colleen Coble
Dana has already learned that love isn't safe . . . but could it be different in Rock Harbor?
As a 911 dispatcher, Dana Newell takes pride in being calm in tough circumstances. In addition to her emotionally-charged career, she's faced enough emergencies in her own life. She recently escaped her abusive fiancé to move to tranquil Rock Harbor where she hopes life will be more peaceful.
But the idyllic town hides more danger and secrets than it first appeared. Dana is continually drawn to her new friend Boone, who has scars inside and out. Then she answers a call at her job only to hear a friend's desperate screams on the other end. Soon the pain in her past collides with the mysteries of her new home—and threatens to keep her from the future she's always wanted.
.

Purchase Links
_____________________________
Book clubs will love this passionate paranormal romance!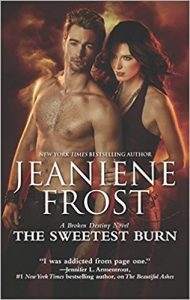 The Sweetest Burn by Jeaniene Frost
The breathtaking second novel in New York Times bestselling author Jeaniene Frost's Broken Destiny series finds Ivy and Adrian rekindling their alliance—and passion—as the struggle for the fate of the world begins…
Conquering a supernatural realm turned out to be easier than getting over a broken heart. But her initial victory has made Ivy a target for revenge, forcing her to reunite with the dangerous—and dangerously sexy—Adrian. Ivy isn't sure which will be harder: finding the hallowed weapon that will repair the crumbling walls between the demon and human realms, or resisting Adrian, who's decided that come hell or high water, he will make Ivy his.
At first, Adrian tried to resist his feelings for Ivy. Now, determined to break the curse that dooms their love, he's vowed to save her and to have her. If only he can persuade her to forgive his past sins. But defying destiny—and surrendering to the smoldering desire between them—will bring consequences and sacrifices they never imagined…
 "Frost scores another win with the mesmerizing second Broken Destiny supernatural contemporary… The novel thrums with energy, its pacing breakneck from the very start, and piles on the sexual tension. Frost provides a much-needed inventive boost to the tired angel/demon subset of supernatural fantasy." –Publishers Weekly

Purchase Links
_____________________________
Southern hospitality and long-buried secrets! Book clubs will find much to discuss in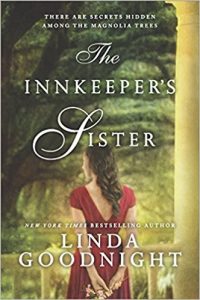 The Innkeeper's Sister  by Linda Goodnight
Welcome to Honey Ridge, Tennessee, where Southern hospitality and sweet peach tea beckon, and where long-buried secrets lead to some startling realizations… 
Grayson Blake always has a purpose—and never a moment to lose. He's come home to Honey Ridge to convert a historic gristmill into a restaurant, but his plans crumble like Tennessee clay when the excavation of a skeleton unearths a Civil War mystery…and leads him back to a beautiful and familiar stranger.
Once a ballet dancer, now co-owner of the Peach Orchard Inn, Valery Carter harbors pain as deep as the secrets buried beneath the mill. A bright facade can't erase her regrets any more than a glass of bourbon can restore what she's lost. But spending time with Grayson offers Valery a chance to let go of her past and imagine a happier future. And with the discovery of hidden messages in aged sheet music, both their hearts begin to open. Bound by attraction, and compelled to resolve an old crime that links the inn and the mill, Grayson and Valery encounter a song of hurt, truth…and hope.
.

Purchase Links
_____________________________
Please fill out our super short registration form (<—click here) by July 31st for a chance to win a set of up to ten copies of one of these great books for your book club! We will randomly choose a winner at the end of the month. This contest is open to clubs in the US only (our apologies to friends in other countries). 
.
Best of luck!
We 
LOVE

 Book Clubs!